People always joke that they want to wrap actress Betty White in bubble wrap to protect her. Country music fans likely feel the same way about Loretta Lynn. She turned 88-years-old earlier this year. With the Thanksgiving-Christmas-New Year holiday trifecta upon us, many people are celebrating Christmas in a new way this year. 
Count Loretta Lynn among those having a 2020 Christmas. 
Loretta Lynn's Low-Key Christmas
Loretta Lynn grew up in an era where a woman's purpose was only to have children. In addition to her flourishing music career, she also raised six children. Sadly, two of her six children passed away. Betty Sue Lynn passed away in 2013. Loretta Lynn's son, Jack, passed away back in 1984. Additionally, Loretta Lynn's husband, Doolittle "Doo" Mooney, died in 1996.
Her four remaining children, including Ernie, Cissie and twins Peggy and Patsy, all gathered with Loretta Lynn for the holidays. The "You Ain't Woman Enough (To Take My Man)" singer posted a photo from the family's Christmas celebration on her social media. In the photo, Loretta Lynn sits in a chair with her legs covered by a blanket. Her children surround her, with her twin daughters kneeling next to her.
Loretta Lynn holds a photo of Doo, while the others hold photos of Jack and Betty. In the caption, Loretta Lynn pays tribute to her children – both living and deceased. She writes that while her "heart's never gotten over losing" her members of her family, she is 'grateful" for those remaining. 
Sweetly, she writes that "everything that matters the most to me is right here." She ends the missive by wishing her fans a Merry Christmas.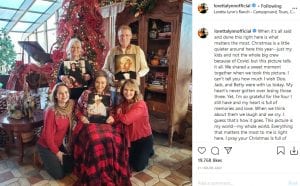 Legendary Singer Stays Safe During COVID Pandemic
Christmas isn't the only holiday that Loretta Lynn kept small. Popculture reports that only her "immediately family" joined her for Thanksgiving last month. 
Loretta Lynn would likely be considered in the vulnerable category for COVID-19 due to her age. Furthermore, she's had a few serious medical issues in recent years. In 2017, she suffered a stroke. Then during her recovery a few months later, she fell and broke her hip. 
Due to her medical problems, she had to cancel touring. She has yet to resume a full-fledged tour. However, lucky fans at her Ranch in Tennessee were treated to a speech by car from Loretta Lynn during a social-distancing concert earlier this summer. 
While the singer seems to be in good spirits, she is clearly very frail. 
"Coal Miner's Daughter" Turns 50
Loretta Lynn is not ready to retire yet. But fans recently marked the 50th anniversary of arguably her biggest hit. The autobiographical song "Coal Miner's Daughter" hit #1 on the charts in 1970, her first number one single. 
A few years ago, Loretta Lynn released a Christmas album, White Christmas Blue. It included a track of her reciting the Christmas poem "Twas the Night Before Christmas." The audio is on her official YouTube channel. Listen to it down below.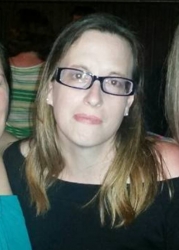 Latest posts by Jennifer Havener
(see all)