Gwen Stefani gave fans a behind-the-scenes look at her new music video. The No Doubt frontwoman is still talking about her new song "Let Me Reintroduce Myself." The video shows the singer going back in time and showing off her iconic looks. Gwen dropped the new music video for her single on New Year's Day.
The 51-year-old proved that age is nothing but a number. She looks just as she did when she was in the ska band. On Tuesday, January 5, the songstress shared the behind-the-scenes footage of some of her signature looks. Some of Gwen's fans will enjoy revisiting them in the video.
Gwen Stefani reintroduces some of her looks
The "Hollaback Girl" dropped her first non-country duet and non-Christmas single in over a year. The single is called "Let Me Reintroduce Myself." On Friday, January 1, Stefani drops the new music video, which includes touches of 2020 such as face masks and hand sanitizer.
It's also a reunion of all of her Gwens from the past. There's a "Don't Speak" Gwen, a "Hollaback" Gwen, an "Ex-Girlfriend" Gwen, and a "Sweet Escape" Gwen. Even her infamous Harajuku Girls return to the video. But then Gwen rolled out the behind-the-scenes footage, which showed how she recreated some of those looks.
"#LetMeReintroduceMyself camera roll dump … cuz when ur in a room full of a bunch of me's u start to go a little 😜 gx," The Voice coach captioned her Instagram post.
She also included a slideshow of clips that showed her iconic outfits. The music video takes fans on a nostalgic journey through Gwen's hip style. The pop star dressed up in several outfits from her career. Most of them were from her No Doubt days.
Surprisingly, this music video is Blake Shelton-free. During her appearance on The Tonight Show, Gwen admitted that her fans should thank her fiance for giving her the music video idea.
"Basically, it wasn't my idea," she told host Jimmy Fallon.
She recreated some of her looks before
While on the late-night talk show, Gwen Stefani recalled collaborating with Blake on their duet, "Happy Anywhere." She told Jimmy Fallon that the original concept for that music video was to have her and Blake dressed up as the nineties versions of themselves.
"We could be the different versions of us, in this video, like, 'Happy Anywhere.' Like, this weird couple that doesn't make any sense, but we do," Gwen said.
But Blake didn't like the idea for "Happy Anywhere." Instead, he encouraged her to use the idea for her own music video.
"He called me [while] driving to the airport and was like, 'You should dress up as you in all your old looks and do this video,'" Gwen explained. "And I was like, 'Whoa. That's actually a really good idea.'"
She noted how "fun" it was to notice her "recognizable" looks from the past. Gwen joked that some of her looks have become a "Halloween costume" that other people use. But for her, it was her actual style. Regardless, it's clear that Gwen hasn't aged.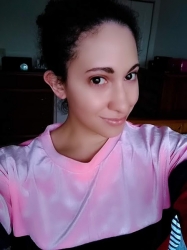 Latest posts by Chanel Adams
(see all)