Carrie Underwood revealed one of her biggest fears. It turns out one of the biggest Country stars in the world is afraid of one of the most unassuming animals on the planet. The "Hallelujah" singer made an appearance on The Drew Barrymore Show. During her interview, she played a game of "True or False" with host Drew Barrymore. Check out one of her most shocking responses.
American Idol alum has a fear of turtles
Drew Barrymore had to guess which facts were false and true from the list, including "has a fear of turtles," "has a pet snake," "listens to ASMR before bed," or "loves to eat frog legs." Barrymore guessed that the singer "has a fear of turtles," which is true. Carrie Underwood explained why she's afraid of this reptile.
"It's not like a petrifying fear of turtles, I feel like out of all the animals on the planet they're the ones who have bitten me the most," she said. "I grew up in the country, turtles were the easiest things to catch cause they are slow and I would catch them and I love animals so much that I would always try to pet them or hug them, and that leads to them taking opportunities."
Underwood revealed that she's "been bitten by lots of turtles," and those turtle bites do "not feel good." The 37-year-old artist credits her love for animals and her hometown of Muskogee, Oklahoma, for being involved in turtle biting situations. You can check out the hilarious segment below.
Underwood's fear is real and valid. According to the South China Morning Post, she has chelonaphobia, which is a fear of turtles. During the interview, Underwood also opened up about her new book Find Your Path.
"I feel like everything in the book is just all about being approachable and real," she said.
Then she added that "at the core of what I do I'm a working mom, I have a busy schedule, taking kids to school… just juggling like we all are, and we offer a lot of hacks and tricks to eating healthy on the go… enjoy your life it is all about balance."
Carrie Underwood loves cows
There is one fear that she doesn't have and that's bovinophobia. This excessive phobia is an irrational fear of cows or cattle. Carrie Underwood previously shared the unique gift that her husband, Mike Fisher, gave her for Christmas. He bought the "Before He Cheats" singer her own herd of cattle.
"He got me cows, which is what I wanted!" Underwood told ET Canada while promoting her new Christmas album and HBO Max special. "I love cows. They're my favorite animal. I love them, they make me happy."
While the cows are for her own personal enjoyment, she won't use them for any practice purpose. Underwood has two small calves in their front pasture. She's trying to get them comfortable with them. Sounds like these baby cows have a fear of human beings.
Check back with Country Music Alley for more news on Carrie Underwood.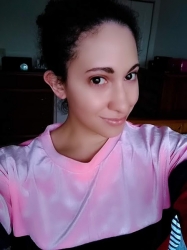 Latest posts by Chanel Adams
(see all)