Dolly Parton is a national treasure! One lawmaker in Tennessee wants to pay tribute to the humanitarian and music icon in a special way. But not everyone thinks it's the right time to honor the "9 to 5" singer. 
Statue in the State Capitol
Earlier this month, Tennessee State Representative John Mark Windle introduced a proposal to erect a statue of Dolly Parton. The statue would be built on the grounds of the state Capitol building in Nashville. Under the proposal of Bill 135, the statue would face the iconic Ryman Auditorium. 
Donations, gifts and grants would pay for the maintenance of the statue, according to Billboard.
The Tennessee government has yet to approve or deny the bill's proposal. But there is also a separate change.org petition to replace confederate statues in Tennessee with Dolly Parton statues. The petition already has over 25,000 signatures. 
Not Everyone On Board With Statue Proposal
Not so fast, a piece by Rolling Stone magazine says. While the writer, Marcus K. Dowling, agrees that Dolly Parton is a legend, they think others should get statue-fied first. 
The writer explains their opinion in an article titled "Why Dolly Parton Doesn't Deserve a Nashville Statue – Yet." Instead of a Dolly Parton statue, Dowling proposes a statue of a "black advocate for black equity." Among the people the author suggests Nashville honor first are civil rights activists Ida B. Wells, John Lewis or Z. Alexander Looby. Or, keeping with the music genre, what about DeFord Bailey or Aretha Franklin? 
Dolly Parton Statue in Hometown
In fact, there is already a Dolly Parton statue in Tennessee. The bronze statue of the Tennessee native is at the center of Sevierville, on the lawn of the county courthouse. 
The statue is a popular tourist destination in Sevierville. It is just down the road from Dolly Parton's Dollywood Theme Park in Pigeon Forge, Tennessee.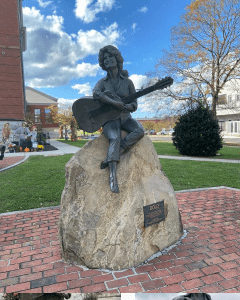 How Did Dolly Parton Celebrate Her 75th Birthday?
January 19th marked a huge milestone in Dolly Parton's life. She celebrated her 75th birthday. Along with likely giving herself a birthday gift, she gave her fans one, too. Dolly Parton asked her millions of fans to spread kindness. 
In honor of her birthday, she shared a photo of her younger self. In the caption, she gave some wise advice. She wrote, "We can't just hope for a brighter day, we have to work for a brighter day." Furthermore, she implored her fans: "let's get to unearthing love."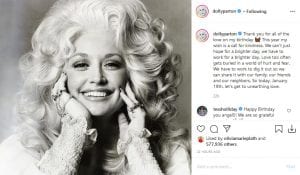 Do you think Dolly Parton should get a statue in the Tennessee capital? Let us know your thoughts in the comment section below? 
Be sure to follow our Facebook page for all the latest country music news.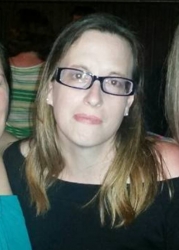 Latest posts by Jennifer Havener
(see all)