No one can imitate country music icon Loretta Lynn. But actress Sissy Spacek came pretty close in the movie Coal Miner's Daughter. The movie spawned a long-lasting friendship between the singer and the actress. 
Loretta Lynn Chose Sissy Spacek for Biopic
1980 saw the release of a film about Loretta Lynn's rise in country music. The film featured Tommy Lee Jones as Loretta Lynn's husband Oliver "Doolittle" Lynn and Beverly D'Angelo as close friend and singer Patsy Cline. The role of Loretta Lynn went to young actress Sissy Spacek. She had made a name for herself a few years earlier starring in the film adaptation of the Stephen King book Carrie. 
In an interview with the New York Times around the time of the film's release, Spacek shared an interesting tidbit. Loretta Lynn herself chose the actress to play her in the flick. The actress noted their similarities, "She and I are the same size — five feet two-and-one-half inches, and there is something so familiar about her. When I met her, it was like meeting a long-lost friend."
Sissy Spacek won an Oscar for her portrayal of Loretta Lynn.
Sissy Spacek Did Her Own Singing, Later Releasing a Country Album
Loretta Lynn has one of the most distinctive voices in country music. But surprisingly, it was Sissy Spacek herself who sang in the Coal Miner's Daughter film. And it was Loretta Lynn who encouraged her to do so, Spacek told the New York Times. 
Wide Open Country reminds readers that Sissy Spacek is a singer in her own right. In fact, singing was her dream before she got into acting. In 1982, she released a country album, Hangin' Up My Heart. Spacek had moderate success with the single "Lonely But Only For You" off her debut album. 
She has continued earning rave reviews for her acting. She recently appeared in another Stephen King-inspired project, Hulu's Castle Rock. 
Friendship Still Strong 40+ Years Later
It's been over 40 years since Sissy Spacek played Loretta Lynn in Coal Miner's Daughter. But the two remain close friends. Wide Open Country notes that Spacek accepted CMT's Artist of a Lifetime award in 2018 on Loretta Lynn's behalf. 
The legendary singer shared a throwback photo on social media from the set of Coal Miner's Daughter.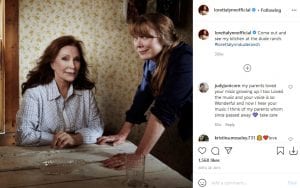 PBS is releasing a new documentary about Loretta Lynn next month. The documentary may possibly feature an interview with Sissy Spacek about the legendary singer. Fans will have to tune in to find out. 
Loretta Lynn: My Story In My Words will air on PBS network on Saturday, February 27.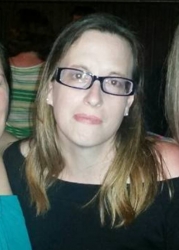 Latest posts by Jennifer Havener
(see all)