Taylor Swift continues to have trademark issues with her latest albums. As fans know, the singer-songwriter released Folklore and Evermore last year. Both albums received plenty of accolades and critical acclaim. But there's also been a lot of trademark issues with both of these secret projects.
A U.S. theme park called Evermore sued the singer. They claim that her latest album has infringed its trademark by using the same name. The theme park's owners argued that the name has caused confusion about whether the theme park is associated with her new album. But this may come as a surprise to those who aren't aware there's a theme park with the same name.
About the Evermore trademark debate
On Thursday, February 4, the Utah-based theme park said it received a "dramatic departure from typical levels" of increased traffic to its website just a week after the album's release. But Taylor Swift and her lawyers argued that "there is no basis" for the claim.
"Moreover, your client has suffered no damages whatsoever and, in fact, has openly stated that Ms. Swift's album release creates a 'marking opportunity' for your client's troubled theme park."
The letter then added that the theme park's claim was "frivolous and irresponsible." The theme park is currently seeking millions of dollars in damages. They claim that the trademark for the name belongs to them. According to them, Swift violated the name when she started selling merchandise associated with her project.
I'm elated to tell you that my 9th studio album, and folklore's sister record, will be out tonight at midnight eastern. It's called evermore.
📷: Beth Garrabrant pic.twitter.com/xdej7AzJRW

— Taylor Swift (@taylorswift13) December 10, 2020
Ever since I was 13, I've been excited about turning 31 because it's my lucky number backwards, which is why I wanted to surprise you with this now. You've all been so caring, supportive and thoughtful on my birthdays and so this time I thought I would give you something! pic.twitter.com/wATiVSTpuV

— Taylor Swift (@taylorswift13) December 10, 2020
The theme park filed the case at the U.S. District Court in Utah in December 2020. The owners told BBC News that they spent millions of dollars on the attraction, which opened in 2018. At the time, Swift's legal team said they were "open to discussing reasonable terms for your discontinuation" of the trademark.
Evermore was a surprise release on December 10, 2020. It was the follow-up to Folklore, which dropped in July. Both albums became commercial successes. They topped music charts around the world, including the UK and the U.S. Swift's latest work brought her back into the country music charts.
As for the theme park, it's fantasy-themed. It doen't give off major witch or cottagecore vibes. Instead, it's perfect for medieval fans. Check out a video on the theme park below:
Taylor Swift had a similar issue with Folklore
This isn't the first time that Taylor Swift ran into this issue. In July 2020, Amira Rasool of The Folklore brand, took to social media to call out the "Cardigan" singer for copying her logo and using it on her merchandise. According to her website, The Folklore is an online store and wholesale showroom that features designers "from Africa and the diaspora's top luxury and emerging fashion brand."
In 2018, Rasool protected her brand by filing a trademark of her company name. It was later registered in 2019. Swift responded to Rasool and said it wasn't her intention to copy her logo. She tweeted that she would correct the issue.
Wait hold up. Taylor Swift, it's one thing to use the name "Folklore" but we're out here stealing Black women's logos too? @TheFolklore pic.twitter.com/XvcS6dyadp

— Amira Rasool (@AmiraRasool) July 24, 2020
I commend Taylor's team for recognizing the damage the merchandise caused to my company @TheFolklore's brand. I recognize that she has been a strong advocate for women protecting their creative rights, so it was good to see her team is on the same page. https://t.co/8KR5IaYkIs

— Amira Rasool (@AmiraRasool) July 28, 2020
Rasool was in contact with Swift's lawyers. The Folklore Album merchandise featured The Folklore's online store's logo no longer was available on Swift's website. Instead, items that featured the name Folklore Album were in their place. Rasool said the swift actions made by the singer and her team were a "great first step" and she and her lawyers were "in conversation" with Swift's team.
Check back with Country Music Alley for the latest news on Taylor Swift's trademark issues.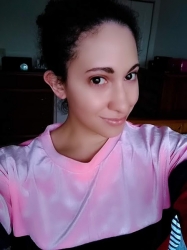 Latest posts by Chanel Adams
(see all)