Miranda Lambert just teased her big return to touring. The singer is traveling back to her home state. She will headline her first shows since early 2020. As country fans know, all concerts and tours are on hold due to the coronavirus pandemic. The "Little Red Wagon" singer is hitching her own wagon.
Miranda will perform three shows in Forth Worth, Texas. She made the big announcement on Instagram. Of course, all three shows will be "safely and right" during the COVID-19 pandemic. Social distancing and other safety measures will be put in place. Read on to learn more about these shows.
Miranda Lambert makes a big announcement
On Monday, February 8, Miranda Lambert announced her first three shows in over a year. She shared a photo of a concert post. Miranda will perform Billy Bob's Texas for three nights during April 22-24. In the caption, she wrote: "First concert in over a year. Texas, I can't wait to come home."
On Friday, February 12, tickets for Billy Bob's shows will go on sale to the general public. However, RanFan club members will have access to pre-sale tickets as soon as Wednesday, February 10. Miranda was in the midst of her 2020 Wildcard Tour when the coronavirus pandemic took hold of the U.S. It led to the widespread shutdown of large events in Mid-March.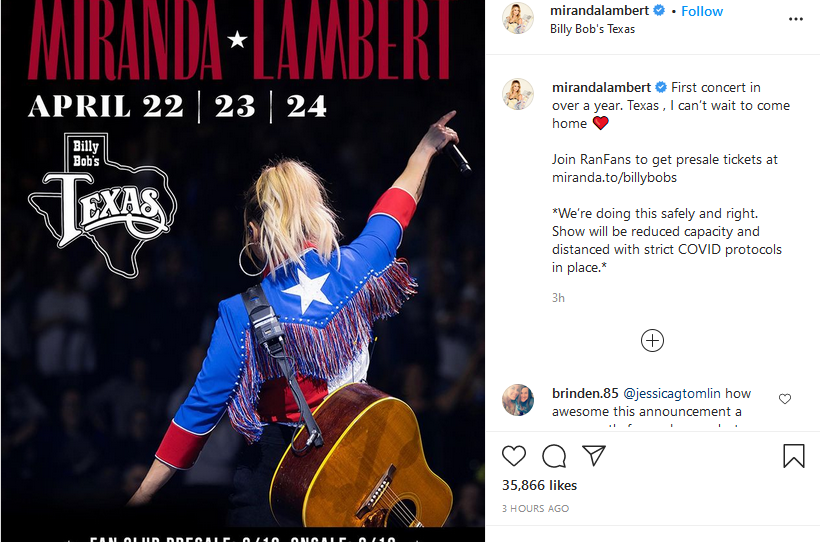 She originally kicked off her concert in January and February and then took March off, and then planned to continue in April and May. But the pandemic continued to get worse, as cases and deaths climbed. Since then, Miranda has spent most of her time at home. But she recently hit the road with her husband, Brian McLoughlin. Their non-work-related trip ended up in disaster.
Fans are looking forward to live music
According to Taste of Country, Miranda Lambert has a song called "Tequila Does" that's a fan-favorite. The track is off her Wildcard album and the music video features behind-the-scenes footage of her concert. In the video, Miranda interacts with her bandmates, fans, and friends.
There's also plenty of tequila shots. It wouldn't be a proper music video if it wasn't without alcohol. During each verse, there's a backstage shot of Miranda during her Wildcard Tour. She performed the song live before the entire world shut down in March.
Miranda wrote "Tequila Does" with Jack Ingram and Jon Randall. Since it dropped in 2019, fans wanted to hear it on the radio. Now, they want to hear it live, especially amid the news of her upcoming shows. Of course, she's known for her emotional and raw songs. Some of Miranda's top songs include "Bluebird," "It All Comes Out In the Wash," and "Settling Down."
What are your thoughts on this news? What songs would like you to hear Miranda perform? Sound off below in the comments.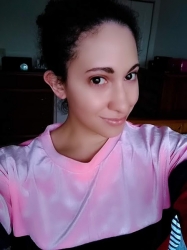 Latest posts by Chanel Adams
(see all)