Latest posts by Mandy Robinson
(see all)
Valentine's Day, the yearly holiday celebrating love and appreciation for those that mean the most to you. But the pressure to plan the perfect day is no joke. Couples struggle every year to find the perfect date, outing or gift that can show that special someone just how important they are. New couples try to outdo themselves for the holiday while established couples simply find time alone to be the best gift. But despite how young or seasoned a relationship is Valentine's Day feels special. And after fourteen years of marriage, Luke Bryan wants to make this Valentine's Day special for his wife Caroline.
What does Luke Bryan have planed?
Luke was joined by his fellow American Idol judges, Katy Perry and Lionel Richie on Live with Kelly and Ryan as he tried answering that very question. The country music superstar has always been the down to earth guy. And the "Huntin', Fishin' and Lovin' Every Day" singer wants to have the perfect balance of country and romance.
Luke jokingly told Ryan and Kelly, "I had initially thought that I might go duck hunting. But that's probably not a good idea. I attempted that once, and it didn't go like I planned."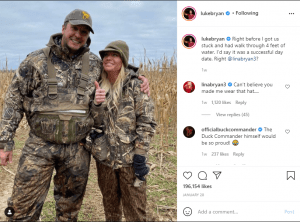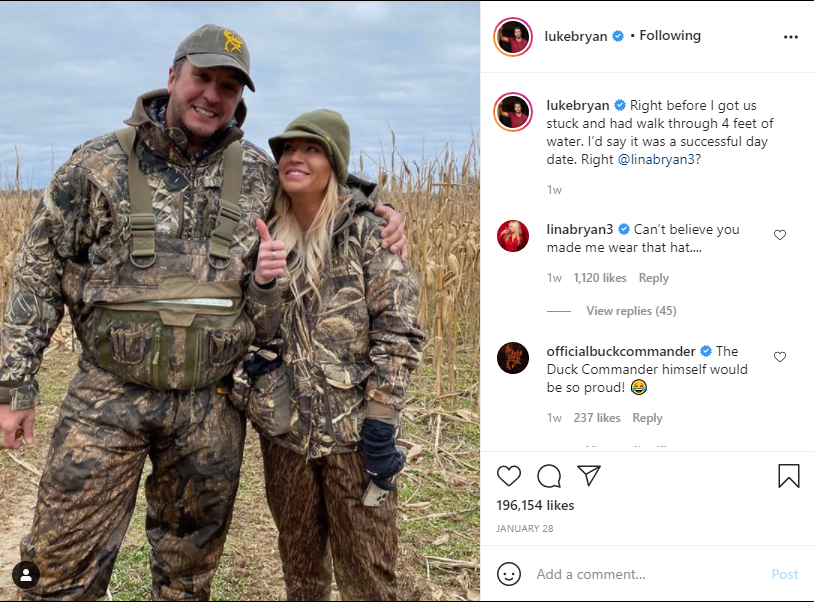 Fans may remember Luke and Caroline's posts on Instagram about their "duck date" where the couple ended up stuck in four feet of water. Caroline showed their Polaris stuck in water that reached up to the steering wheel saying, "This date is going great!" Luke had obviously hoped to make the hunting trip as romantic as possible, but it was an unfortunate failure. The country boy loves his sportsman activities, but Caroline might not be as enthusiastic about them as her husband.
But if the original date in January was a dry run for Valentine's Day at least Luke now knows what not to do. And he has tentatively planned accordingly. The 'Down to One' crooner is stepping up his game. "I am going to already getting the roses in store, and try to slip away somewhere just she and I."
The new season of American Idol
So, time alone may just be the perfect ticket, and Luke Bryan can afford to take Caroline anywhere her heart desires. But they can't stay away for too long because Season 4 of American Idol will begin airing on Valentine's Day! That is right ABC will air the first episode of the new season on Sunday, February 14, at 8 p.m. ET.
The auditions for this season began in August of 2020 via virtual auditions. But the lucky contestants that have been selected to compete will perform live for the judges this season. Last season American Idol had to shut down production due to COVID-19. But it was the first reality competition series to air remotely, which they continued throughout the season to the finale. This season however the show will be back live for audiences everywhere.
The show continues to adapt to the COVID-19 pandemic, but the biggest changes are the structure of the performances. Bobby Bones will be returning as the in-house mentor for the contestants and talked about the changes. "In Hollywood Week, the judges went around into the rooms a bit more than ever before and worked with the contestants as well. We had duets last year, but the big twist this year was the judges paired people up."
So, the contestants are not going to be doing only single contestant performances this year. It will be interesting to see if the new style mirrors the battle rounds of The Voice. But new episodes will air every Sunday on ABC and fans might have to wait for the Hollywood Week for those duet performances.