Shania Twain is all about girl power and it shows. The country singer shared her thoughts on Super Bowl LV. Like many, she was watching the event on Sunday, February 7. The Canadian songstress reflected on the time when she performed at the nationwide event.
She was also one of those lucky ones who went to Raymond James Stadium in Tampa, Florida. Shania watched the game between the Kansas City Chiefs and the Tampa Bay Buccaneers. She posted a photo of herself sitting inside a stadium box. In her caption, Shania also recollected a story that involved the Buccaneers.
Country singer gives a shoutout to girl power
Shania Twain wrote in the caption: "Congrats to the Chiefs & Buccaneers for making it here! The last time the Buccaneers were in the Super Bowl I performed the halftime show… Can't believe that was 18 years ago."
She then added: "Good luck to both teams – Let's Go Guys!" She referenced one of her iconic songs. Then Shania wrote: "Since there will be more women in on-field roles during Super Bowl LV than ever before LET'S GO GIRLS!"
This year's Super Bowl made history. It had more female power than previous events, according to Taste of Country. There were six women holding on-field roles during the game. Super Bowl LV also included a version of the national anthem performed by Eric Church and Jazmine Sullivan.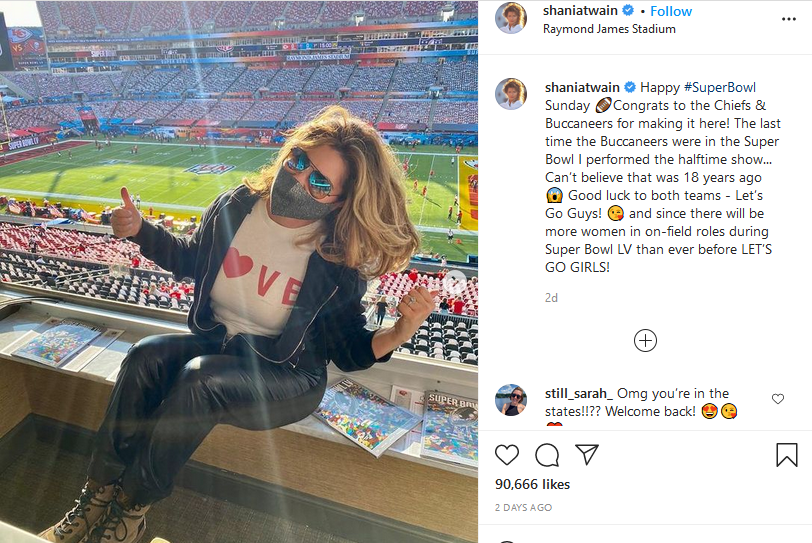 She performed at the halftime show for the 2003 Super Bowl XXXVII. There, she performed her hit song "Man! I Feel Like a Woman" and "Up!" as well as a performance with No Doubt and Sting. It was also one of the earliest moments that Gwen Stefani performed with a country superstar.
Kelsea Ballerini on her collaboration with Shania Twain
On The Bobby Bones Show, Kelsea Ballerini talked about her new songs "Love Me Like You Mean It" and "I Hate Love Songs." During the interview, she also talked about her most recent collaboration with Shania Twain. Fans love her new version of "Hole in the Bottle," which features Shania. She revealed that the music video led to their collaboration.
"It wasn't until we shot the video for 'hole in the bottle' – a lot of the outfits I tried to kind of tip my hat to Shania like her 'Man, I Feel Like a Woman' and all that kind of stuff," Kelsea said. "So I watched the video back and I was like, 'Wait, a second, this song, it's her vibe anyway. I emailed her and I was like, 'What about this? It's already out and I tribute to you in the video. Are you down?' And she was like, 'Yeah.'"
The singer said they drink a lot of wine. So, the collaboration made sense.
Shania Twain keeps the girl power going
The Ontario singer recently gushed over Britney Spears. There was a time when the two collaborated. Shania Twain revealed on her Home Now Radio podcast on Apple Music that she helped co-wrote the song "Don't Let Me Be the Last to Know," from Britney's sophomore album Oops!… I Did It Again, alongside ex-husband Mutt Lange and Keith Scott.
Shania continued to show her support for the pop princess. She saw Britney perform in Las Vegas' Zappos Theater on multiple occasions during the Britney: Piece of Me residency from 2013 to 2017. Then, she bagged tickets to Zappos Theater for her Let's Go Residency, which debuted in 2019. During that conversation, she also shared some love for Celine Dion.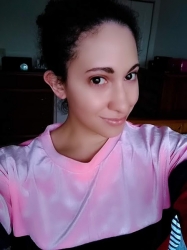 Latest posts by Chanel Adams
(see all)