Earlier this week, Country Music Alley reported that Miranda Lambert announced her upcoming mini-residency. It takes place at Billy Bob's in Fort Worth, Texas. Initially, the superstar singer was planning to perform for just three shows. But it became such a hit that she decided to add more dates.
The country singer added two more dates to the residency. Residencies have become a hot commodity long before the coronavirus pandemic. And they could be the perfect answer for those thirsting for concerts in a post-pandemic world, whenever that happens again. Previously, Miranda took everyone's Monday blues away when she announced her very own residency in Texas.
"Little Red Wagon" singer adds more dates
According to Taste of Country, Miranda Lambert added two more dates: May 1 and 2. Tickets will go on sale on March 5, 2021. The mini-tour is setting up to become a residency at Billy Bob's Fort Worth, Texas. Earlier this week, Miranda announced the first three dates that ran from April 22-24, but those shows have since sold out.
Underneath Miranda's Instagram post, a note indicates that COVID-19 protocols will be set in place for all three shows.
"I cannot wait to get home. I cannot wait to get back on that stage," she revealed in a new Instagram post.
On Friday, February 12, Miranda announced the new dates. She also thanked her fans for their support. The 37-year-old singer is returning to her old stomping grounds after being off the road for some time. She grew up in Lindale, Texas, which just two hours east of Forth Worth.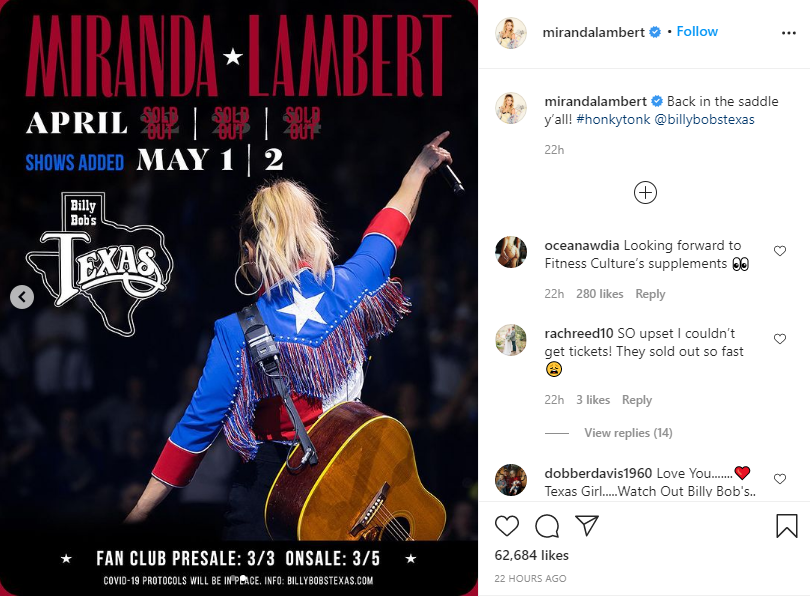 Like most aspiring country singers, Miranda moved to Nashville to make her big break. Her career started when she signed with Sony Music Nashville in the early 2000s. What also helped is that she tried out for the singing competition show, Nashville Star. Fans were introduced to her and couldn't get enough of her incredible vocals and raw talent.
Miranda Lambert counts her blessings
"Settling Down" is the latest song from her 2019 album, Wildcard. She had an accompanying tour for that album until the pandemic started in March 2020. The April 2021 dates kicks off her first live shows of the year. Additionally, Miranda Lambert has spring and summer stops on her tour calendar.
In the meantime, the songstress has been traveling across the country with her husband Brendan McLoughlin. However, their road trip ended tragically when her Airstream trailer was side-swiped by a hit-and-run driver in Atlanta. Thankfully, no one was hurt and Miranda is counting her blessings. Miranda recently addressed the incident on Instagram.
"We fishtailed pretty good but go on the shoulder as quickly as possible to assess the damage," Miranda wrote in the caption. "Nobody was hurt thank the good Lord. But nobody stopped either and the car sped away. (Cool Bro) We are so thankful that nothing worse happened. Our vehicle and trailer were driveable so we made a report and hauled home. I called mama right away to say that I know her prayers are always heard cause I know she prays for us every morning about 4:30 am. Especially when we are on the road."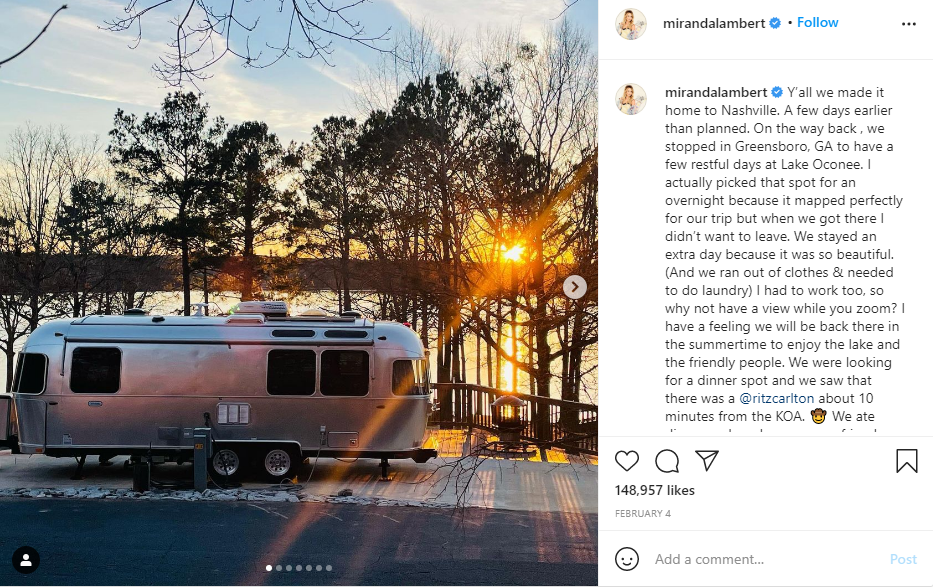 Despite this setback, Miranda wants to move forward. The couple's trailer has been repaired. Also, the video for "Tequila Does" has received a positive reaction among her fans. Some of the lucky ones can't wait for Miranda to perform live once again.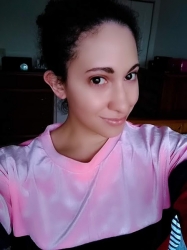 Latest posts by Chanel Adams
(see all)