Spanish singer and reality TV star David Bisbal says that working with Carrie Underwood is a "dream come true." The two collaborated on the song "Tears of Gold." On the track, Carrie sings in Spanish for the first time. She's been marking a lot off her bucket list lately.
Previously, Underwood dropped her first-ever Christmas album. Now, she's gearing up for the release of her first-ever gospel album. The country star also brushed up on her Spanish. She went bilingual for a special collaboration on the song written by Cameron Forbes, Matt Schwartz, and Paul Harris.
The track is featured on Bisbal's alum En Tus Planes.
David Bisbal shows praise for American Idol champ
The Spanish singer had an exclusive interview with HollywoodLife. David couldn't believe his luck when he collaborated with Carrie Underwood. He feels that the singer was "exactly what we needed for this track."
"Music transcends barriers. I know it sounds like a cliché," Bisbal told HollywoodLife before adding "but music is a universal language."
For this particular track, Bisbal wanted Underwood to sing in Spanish. The two delivered an upbeat pop dance track that will have you crying in the club. That is if the clubs were open right now. Since its release, it has accumulated over 8 million worldwide streams.
"Carrie has a powerful voice, and I knew right away that she was exactly what we needed for this," David added.
At the time, he was looking for the perfect artist to sing with on the track. When he sent Underwood the demo, she said she wanted to sing with him. He called that moment "a dream come true." Bisbal says the "Soft & Tenderly" singer "did an amazing job" with singing the song in Spanish.
He didn't find it hard to match her vibe. In fact, he knew that she had a "powerful voice." He felt that she had the perfect voice for this track. But of course, Bisbal also wanted to do his bet.
He was "very impressed" with Carrie Underwood
In a previous interview with ET Canada, Bisbal admitted that he was impressed with Carrie Underwood. He is "very thankful" that their duet turned out well. Bisbal also noted that he was impressed with Underwood's professionalism and dedication to learning the Spanish language. She even wanted to improve her dialect.
"I remember she was worried about her pronunciation for the music video, but she did it perfectly," Bisbal said.
He also revealed that Underwood helped him with the English lyrics.
"I know that pronunciation is one of the most important things in a song, but I had teachers and Carrie to help me all of the time during shooting," Bisbal continued. "She's a good partner.
Once the pandemic is over, he would love to go on tour with Underwood. While he enjoys recording music and making music videos, he misses traveling. Bisbal would get ultimate fulfillment from singing live with Underwood on stage. If his wish comes true, Bisbal will head out on the road this fall for his En Tus Planes tour.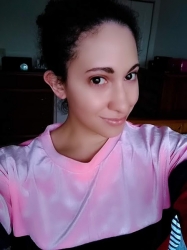 Latest posts by Chanel Adams
(see all)