Country music fans get ready. All the signs and social media posts were pointing toward a collaboration between Miranda Lambert and Elle King! Miranda posted a picture of herself with Elle King sporting decidedly 80s attire and hairstyles. So, if the two superstar singers are not teasing a music video then the pair went to a theme party and everyone needs to see those photos soon.
Miranda's tweet showed King wearing a wedding dress, drinking and smoking while Lambert slayed in a metallic-pink bridesmaid's dress. Both ladies are leaning on what looks like a vintage car, rounding out the theme for the possible video.
But King was not to be outdone; however, she went to Instagram to post her photo. In that post kept to the 80s theme with Miranda sporting a teased perm and big-bling earrings. Elle meanwhile smoldered with light pink hair and the pair both wore pastel blazer jackets. And King captioned her post "The whiskey goes down better when they don't know who you are… #DRUNK"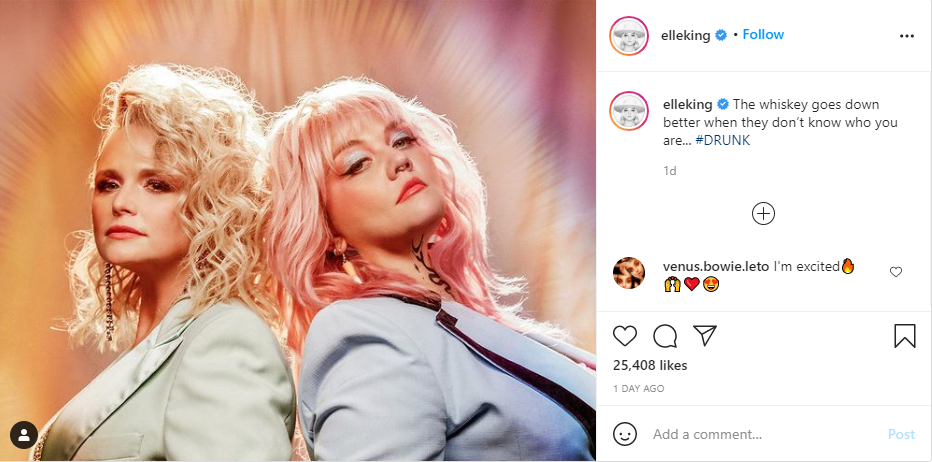 Elle King coming around
Both ladies were kind enough to officially confirm the collaboration via Instagram, where they invited fans to pre-save "Drunk (And I Don't Want To Go Home)." Elle King is not a stranger to the country music genre and her work has been influenced by country. King's exact genre of music is harder to categorize because the range of songs she creates spans country, soul, rock and blues. Elle likely doesn't want to be categorized because then she could not create as freely. She once commented that writers struggle to define her because "I don't have both feet in the country world."
But Elle has collaborated previously with other country artists and she seems to keep coming back to the country music realm. One of her most notable team-ups was with Dierks Bentley for their 2016 hit "Different For Girls." The song went on to win the CMA Award for "Vocal Event of the Year" and was nominated for the Best Country Duo/Group Performance Grammy in 2017.
Miranda Lambert and King
Another thing to remember is that Miranda Lambert and Elle King have worked together before. King toured with Miranda in 2019 on the Roadside Bars & Pink Guitars Tour. The pair also worked alongside Maren Morris, Ashley McBryde, Tenille Townes, and Caylee Hammack. This supremely talented group of ladies came together to recreate, "Fooled Around and Fell In Love" by Elvin Bishop. The blues singer first recorded the song in 1975 and these ladies brought it back. The song ended up winning the Vocal Event of the Year at the Academy of Country Music Awards.
Miranda enjoys working with other artists, she is part of a group The Pistol Annies after all. But what country fans hope this possible collaboration means more than just a new song. Most fans are hoping that this will encourage Elle King to fully step into the country music genre.
Latest posts by Mandy Robinson
(see all)