George Strait rarely shares the stage with anyone. So, Miranda Lambert should consider herself lucky. The country legend thought she was the perfect person to collaborate with. The two performed "How 'Bout Them Cowgirls" and "Run" in 2014. It was one of those rare moments that Strait brought someone out on stage with him.
At the time, he admitted in an interview that he doesn't perform "with a lot of people." But he knew he had to perform with the then-rising star, Miranda Lambert. He shared a lot of praise for the Nashville Star alum. Since Strait toured with Lambert before, he was aware of her raw and incredible talent.
George Strait and Miranda Lambert on touring together
According to Outsider, George Strait revealed how he and Miranda Lambert ended up performing together.
"She chose to do 'How 'Bout Them Cowgirls' and 'Run.' I think those are great songs," Strait explained. "I love those two songs. I thought it was a great choice for her."
Then, the "All My Ex's Live in Texas" star paid her the highest compliment. He said that she "killed" her performance.
"She's got that attitude and then she showed it that night in Dallas," Straight continued. "It was really fun."
"How 'Bout Them Cowgirls" is his 2007 hit song. The single hit No. 3 on the Billboard Hot Country Songs chart. Strait and Lambert performed "Run" as part of their duet towards the end of The Road Less Traveled tour. Strait released "Run" in 2001. It peaked at No. 2 on the Billboard Hot Country Songs charts in December of that year.
"Little Red Wagon" singer opens up about their tour
Miranda Lambert was one of the lucky few who got to tour with George Strait. During that time, she finished her time on Nashville Star. Then, she joined him on his 2006 tour. Lambert immediately learned everything about touring and being on the road. In a previous interview, she revealed how the King of Country Music helped her with her father.
"My dad was on tour with me too," Lambert recalls the story. "He was doing all my merchandise. We were all riding the same bus, we had one bus, and my dad was really mad and he wouldn't talk to me."
Strait knows the importance of family. He found a way to mend Lambert's relationship with her father. It was found through the magic of temporary tattoos. The country crooner gathered everyone together to get temporary tattoos, which had Lambert and her father laughing. And suddenly, he wasn't mad at her anymore.
Strait and Lambert performed at the 54th ACM Awards
George Strait and Miranda Lambert also performed "Run" at the 54th American Country Music Awards. This electrifying performance got the audience on its feet. The pair sang in front of a backdrop of night lights in front of the Dallas skyline. Strait and Lambert then held the final note together, and then Strait gives a final, "Oh baby run."
Lambert looks over at the legend and says, "That's the king y'all. George Strait." The crowd, filled with country artists, roared. Then, Strait respectfully credits Lambert by saying, "Miranda," as the crowd continues to cheer. Check out the incredible performance in the video below.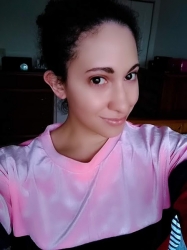 Latest posts by Chanel Adams
(see all)