Carrie Underwood is gearing up for the release of her new gospel album, My Savior. Fans have wondered if it will include any duets. The country superstar teamed up with gospel icon CeCe Winans on the track "Great is Thy Faithfulness." She dropped the new song on Friday, February 26.
Underwood and Winans go back in forth in their collaboration. Their voices pair perfectly together along with the piano building in the background. In 1923, American songwriter Thomas O. Chisholm wrote the words for "Great Is Thy Faithfulness." Shortly thereafter, William M. Runyan composed the song's melody after Chisholm sent him the lyrics.
What to know about her new gospel album
"Great Is Thy Faithfulness" is one of the 13 tracks on My Savior. Previously, Carrie Underwood released the lead single "Soft and Tenderly." This comes after her 2020 Christmas album, My Gift. Underwood called My Savior a "companion album." The album also includes the classic songs "Amazing Grace," "How Great Thou Art," and "The Old Rugged Grace."
However, fans are thirsty for a new country album. It's been three years since Underwood released a country album. Her last release was Cry Pretty in 2018. But Underwood is experimenting with different genres these days. She's aware that touring and concerts won't return anytime soon. But some fans think that news of a country project will come later this year, although the singer hasn't hinted anything.
Carrie Underwood reveals inspiration behind the new song
Both Carrie Underwood and CeCe Winans shine on this track. This beautiful song celebrates one of the most powerful voices in country music along with one of the most inspirational voices in gospel music. Their soaring vocals will give you a sense of faith. This new duet will move even some of the hardest of hearts.
"It was such an honor to record with gospel royalty," Underwood wrote in the caption on Instagram. "Again the lyrics, it's like 'God you are so good to me. I woke up today. I'm still breathing. I'm still walking. I'm still singing. I still get to see my kids.' Every single one of those things, the things we take for granted."
Winans paid her compliments to the country singer. She called the opportunity to collaborate with Underwood "awesome." Winans is a huge fan of the American Idol alum, and feels that their duet "really just brought it all alive." Underwood wants to continue with her mission to record gospel songs that she loved as a child.
Why Underwood included "Soft and Tenderly" on her album
Carrie Underwood also posted a new behind-the-scenes video about the song "Soft and Tenderly." She recalled singing the song at the 2017 CMA Awards during a "very somber moment" in memoriam of the over 60 people killed during a mass shooting at the Route 91 Harvest music festival in Las Vegas in October 2017.
"It felt like at the time, that song just brought a lot of healing into the room," Underwood said. "I wanted to include it on this project to have it in a more 'done' way. Hopefully, it'll continue to bring some healing to people who need it."
My Savior drops everywhere on March 26.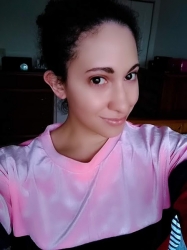 Latest posts by Chanel Adams
(see all)