Famous exes Miranda Lambert and Blake Shelton will become neighbors. The "Little Red Wagon" singer will be moving into the neighborhood. This might be awkward for the former married couple. As fans know, Blake and Miranda had a troubled divorce.
Every aspect of it played out in the headlines. But Blake has since found comfort with Gwen Stefani. Meanwhile, Miranda has found happiness with former police officer Brendan McLoughlin. However, the couple has been rocked by tabloid rumors. Both sets of couples can't seem to escape the tabloids when it comes to their personal lives.
Exes are set to become unlikely neighbors
Earlier this month, Taste of Country reported that Miranda Lambert and Blake Shelton will become neighbors. The country superstar is setting her sights on her very own branded bar on Broadway in Nashville, Tennessee, according to the Nashville Business Journal. On Wednesday, March 3, TC Restaurant Group confirmed the news.
"In true Miranda Lambert fashion, the two-time Grammy Award-winning artist will make history in 2021 by partnering with TC Restaurant Group to become the first female country star to have a bar and restaurant on Broadway in Nashville, Tennesse," the group said in its statement. "TC Restaurant Group and Miranda Lambert are excited to release more details in the coming week."
Country Music Alley previously reported the news of her new venture. According to the Business Journal, the Metro permit revealed that Miranda's Casa Rosa will be located on 308 Broadway in downtown Music City. It's currently undergoing renovations with its current bar space and restaurant, which will include upgrades such as "bar areas and finishes." The 17,400-square-foot building will also feature two restrooms and a mezzanine.
Miranda is setting the path for female country artists. It'll be the first time that a female country artist has her own bar in Nashville. In the past, several male country artists have had establishments in the area, including Miranda's ex-husband, Blake Shelton. That's how the two will end up as unlikely neighbors.
Miranda Lambert to make her mark on Broadway in downtown Nashville
There will be plenty of Miranda Lambert merchandise inside Casa Rosa. According to Williamson Source, it will feature the "Pink House," a space with memorabilia that features the original birdcage from her music video for "Bluebird." Fans will also find some of the clothes she wore on-stage and in her music videos and other accessories such as her iconic rhinestone saddle.
Casa Rosa will open its doors in summer 2021, and will mostly serve tacos and tequila. Not only does she love tequila, but she also enjoys the occasional glass of wine. According to Mayhem Magazine, Miranda has a line of wines called Red 55 Wines. It has fun names such as "Crazy Ex-Girlfriend" and "White Liar." Each bottle of wine features pistols and a pair of wings, which perfectly fits her personality.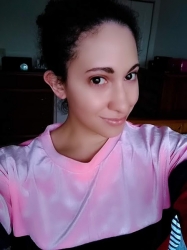 Latest posts by Chanel Adams
(see all)