Miranda Lambert had a good night at the 2021 Grammys. She won an award for Best Country Album for Wildcard. She also rocked her performance of "Bluebird." Meanwhile, fans were split on Miranda's look. They think her first look on the red carpet was way too casual.
But that's okay since Miranda later slipped into something "slinky and sexy" for the event. She hit the red carpet with her husband, Brendan McLoughlin. When she won the award, Miranda's fans immediately took to Twitter to troll her ex-husband, Blake Shelton. Blissfully unaware of the drama, Miranda said that she's "very thankful" for her win.
Miranda Lambert talks about her Grammys win
She won Best Country Album at the 2021 Grammy Awards. The 37-year-old singer was awarded the high honor in country music during the Sunday night broadcast. According to People, Miranda Lambert's Wildcard received the same nomination as Ashley McBryde, Ingrid Andress, and Little Big Town's Karen Fairchild, Kimberly Schlapman, Phillip Sweet, and Jimi Westbrook. It's the first year that the country category has all-female nominees or female-fronted groups.
In her acceptance speech, Miranda acknowledged her fellow nominees. She expressed girl power by saying, "We're such a family in country music."
"I feel like holding this right now, I'm holding it for all of us – especially us girls," Miranda expressed as she lifted up her trophy. "I'm very thankful for this."
She went on to thank her husband, Brendan McLoughlin, her family, and her collaborators "who made Wildcard what it is and this tattoo that inspired it." Then, Miranda lifted up her forearm to show off her ink. She previously won in that same category at the 2015 Grammy Awards for her fifth album, Platinum. Wildcard is her seventh studio album.
In addition, "Bluebird" was nominated for Best Country Song and Best Country Performance. Miranda first won a Grammy in 2011 for Best Female Country Vocal Performance for her song "The House That Built Me." She's currently working on a new album with songwriters Jon Randall and Jack Ingram. The new album is called The Marfa Tapes, which is set for release in May.
Brendan McLoughlin praises his "wonderful" wife
Brendan showed major support for Miranda Lambert. On Monday, March 15, the retired New York City police officer wrote a heartwarming post on Instagram. He shared a photo of the two on the red carpet during the event. Brendan said that he "could not be more proud of this wonderful woman I get to call my life."
In the carousel of photos, the 29-year-old also shared a selfie of himself kissing the country star on the cheek. Brendan had more to say in his lengthy caption. He praised his famous wife for being awarded for showing her true self on her album.
"Watching this album go from being just a thought to celebrating your Grammy victory was magical," Brendan continued. "I cannot wait to be a part of the future magic you create."
Miranda also shared photos from their night at the Grammys on Instagram. While she noted that "it was a different kind of Grammy's this year," she was excited to return to the stage and "celebrate music in a big way!" Miranda thanked her fans, friends, and her Nashville family. In the slideshow of five photos, she included a FaceTime moment with fellow nominee Ashley McBryde and a group photo with the other nominees Brandy Clark and Ingrid Andress.
What are your thoughts on Miranda's win at the Grammys? Do you think things are going great with her husband now? Sound off below in the comments.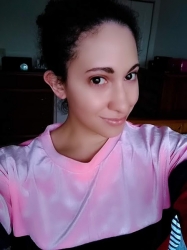 Latest posts by Chanel Adams
(see all)