Carrie Underwood opened up about her faith. On Friday, March 26, the singer released her first-ever gospel album, My Savior. She returned to her Christian roots with a collection of hymns she sang since she was a little girl. This comes after the release of her Christmas album, My Gift.
The American Idol alum wanted to keep those good feelings going. She wants to be a beacon of source and inspiration in challenging times. And since Easter is still a little different for most people this year, she decided to hold a special live virtual concert on Easter Sunday. Before then, Carrie made an appearance on Today on Friday.
Carrie Underwood on the importance of faith and family
In a live appearance with Today, Carrie Underwood said she wanted to record a collection of songs "that are so hopeful and peaceful." She was inspired to help "people find some peace and comfort in these songs." Like most country artists, Carrie's life changed for the past year. She was no longer touring and interacting with her fans. So, she had to find another way to connect with them.
She was "glad" and "grateful" to have these songs to rely on. Carrie describes this project as "a source of joy." It was an album that she wanted to do since the start of her career. She also had a feeling that it was something that everyone could use right now. There is nothing wrong with having a little more faith.
"I sang these songs when I was little, and now that I'm an adult, they hold such a higher purpose and deeper meaning for me singing these lyrics," Carrie continued. "You never know who is going to need whatever song it is you're putting out."
The "Soft and Tenderly" singer has always worn her faith on her sleeve, sort of speak. One of her first singles was "Jesus, Take the World." She admits that her faith is part of who she is and when she looks to God, she has "hope" in her life. Carrie credits her family upbringing for "having something to cling onto."
AI alum performs new gospel songs
During her appearance, Carrie Underwood also performed the songs "Just As I Am" and "Victory In Jesus." She stood in a glittery blue gown with a choir and grand piano behind her. Her voice soared on the track "Just As I Am." Carrie showed off her incredible talent in both of the soothing and peaceful songs.
"Carrie, there is nobody like you," Today co-host Hoda Kotb said after her performance.
The singer performed from a barn. She gave a country spin to the gospel track from 1939. Her voice was featured with a banjo and harmonious background choir. Carrie will continue to promote her project with her upcoming livestream concert, My Savior: Live From the Ryman on Sunday, April 4. Special guests include CeCe Winans and NeedtoBreathe's Bear Rinehart. The show will stream live on her Facebook page at 12 p.m. ET on Easter Sunday.
Have you bought Carrie's new album? If so, what are your thoughts? Sound off below in the comments.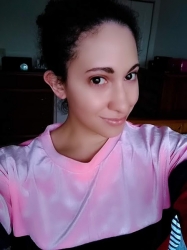 Latest posts by Chanel Adams
(see all)