Blake Shelton and Gwen Stefani visited Monterey's Fisherman Wharf over the weekend. The couple visited California's Central Coast so they could try their hand at crab fishing. It was an unlikely sighting since they're more of a Hollywood couple. While Gwen looks the same as she always did, she has changed a little here and there.
As Country Music Alley previously reported, Gwen has tweaked a little of her style. Sometimes she'll rock a baseball cap with hunting gear. Other times she'll wear a cowgirl hat with some cowgirl boots. Then, she'll go back to her usual No Doubt look in no time.
The singer previously revealed how her beauty has changed a little since dating Blake.
Blake Shelton and Gwen Stefani caught crab fishing
Chris' Fishing and Whale Watching company caught the couple in the act. The company posted a photo of Gwen Stefani and Blake Shelton showing off the crab fish they caught over the weekend. On Sunday, March 28, the duo caught 50 sand dabs and 17 crabs during their fishing trip. They're one of the companies most famous customers.
"Thank you Gwen Stefani and Blake Shelton for coming and enjoying an amazing day on the Bay with us," the company shared on its Facebook page. The photo shows Blake holding up one of the crab fish with a big smile on his face. He wore a black hooded jacket and jeans with a baseball cap.
Meanwhile, Gwen stuck true to her signature style. She wore a jacket that had plaid, leopard, and camouflage print all over it. She accessorized her funky look with a zebra print face mask. She also held up a crab fish. A masked employee stood next to the couple and joyfully held up a crab fish.
As of Tuesday, March 30, the post received over 300 comments. Followers of the fan page were shocked over the celebrity sighting. "Hope Blake and Gwen had an awesome time in my neck of the woods," one follower wrote. Others remarked that it was a very "cool" sighting, aside from the fish itself.
The couple also had a lunch date at Cafe Fina in Monterey. Chris' Fishing and Whale Watching is located in Monterey and also offers whale watching tours.
Engaged couple goes on dates together
Gwen Stefani and Blake Shelton met on the set of The Voice five years ago. Their romance happened after Blake divorced Miranda Lambert and Gwen divorced her husband Gavin Rossdale. They were just friends at the time, but then they started dating. Everyone was in shock over their blossoming relationship, especially since they're such polar opposites.
Since then, the pair have recorded many happy duets together, including "Nobody But You," which won a CMT Music Award. In October 2020, the two got engaged at Blake's ranch in Oklahoma, where he lives. They even quarantined there during the coronavirus pandemic. Nowadays, Gwen and Blake split their time between Los Angeles and Oklahoma.
What are your thoughts on Blake and Gwen's latest date? Sound off below in the comments.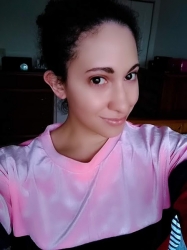 Latest posts by Chanel Adams
(see all)