Kelly Clarkson has fans thinking about her latest cover. In the latest "Kellyoke" segment, the singer and her band Y'all performed their rendition of "Got My Mind Set On You" by George Harrison. The performance took place during the Tuesday, March 30 broadcast on The Kelly Clarkson Show. The singer continues to knock it out of the park with her performances.
Believe it or not, but "Got My Mind Set On You" isn't Harrison's song. In 1987, he performed his cover of James Ray's originally titled song "I've Got My Mind Set On You." The track was featured on his 11th album, Cloud Nine. The upbeat pop song hit No. 1 on the Billboard Hot 100.
Kelly Clarkson sticks to George Harrison version
The American Idol stuck the energy of the late '80s version. Once again, Kelly Clarkson wore a little leopard print number as she belted out along to the tune. This high-energy performance kept the viewers entertained from their homes. Clarkson's fans are easy to please since they continue to love her "Kellyoke" cover songs.
However, this isn't the first time that she's covered a song by The Beatles or one of its members. Clarkson performed "Oh! Darling!" from their 1969 album Abbey Road during her 2012 Stronger Tour. Clarkson has always been intertwined with The Beatles. That's because she beat out the British group just 10 years prior.
Following her win on Season 1 of Idol, her debut single "A Moment Like This" topped the Hot 100. It broke The Beatles' 38-year-old record when "Can't Buy Me Love" was at No. 1 for 27 weeks in 1964. "A Moment Like This" ended up at the top for 52 consecutive weeks.
Check out Clarkson's performance of "Got My Mind Set On You" in the video below.
Fans got this cover set in their minds
Kelly Clarkson hit all the right notes. Fans immediately flocked to the video's comments section to share their thoughts. The "Because of You" singer has been making headlines for her cover songs. Fans are impatiently waiting for Clarkson to release her own covers album as most artists do at some point in their career.
There were some fans who didn't know what to say. They ran out of compliments to give her. "Man I've run out of ways to compliment Kelly's voice is simply spectacular like woah," one stupified fan wrote.
Some were too busy dancing in their seats. They love it when Clarkson performs pop music. "I love the upbeat songs to Kelly can litterly [sic] sing anything," another user wrote.
It would be impossible for Clarkson to release a covers album at this point. Fans wouldn't be happy with the tracklist because they would want more. "This is why she can't even put out an album full of covers because we'll just want more and more songs bc she can sing anything," this brilliant viewer wrote.
Another suggested that she should perform more songs from legendary artists like The Beatles, Janis Joplin, Led Zeppelin, Loretta Lynn, and Willie Nelson. Others had bittersweet memories of when they first heard this song on the radio. "Kellyoke" has become a bright spot in these challenging times. It's always exciting to see what she'll perform next.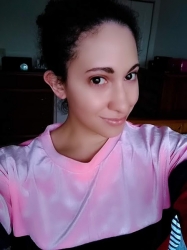 Latest posts by Chanel Adams
(see all)