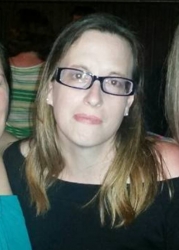 Latest posts by Jennifer Havener
(see all)
Having Garth Brooks as a dad is an obvious 'in' to get noticed on the country music scene. But his youngest daughter is determined to make her own path. Known professionally as Allie Colleen, the 24-year-old is about to release her debut album. She's already reached the music charts last year with the single "Ain't the Only Hell (My Momma Raised.)" 
What can fans expect from her debut album?
Allie Colleen Makes Her Own Way 
Garth Brooks famously (temporarily) retired from country music to raise his children. He shares three daughters with ex-wife Sandy – Allie, Taylor and August Brooks. Rather than bank on her family name, Allie Colleen relies on sheer talent to make a name for herself. 
The aspiring singer spoke to Taste of Country ahead of her debut album. She revealed that she's feeling more self-confident than ever. She said, "There was a lot of other people affirming me for a long time." However, "2020 taught me to do that for myself a little bit, which was rewarding."
One boost of confidence likely came from reaching the music charts. But 2020 wasn't all great for Allie Colleen. Due to the pandemic, she had to stop touring, which she missed immensely. Furthermore, she caught COVID, giving her dad and Trisha Yearwood quite the scare. 
While neither Garth or Trisha came down with COVID at that time, Trisha Yearwood battled the virus earlier this year. 
Excitement Over Debut Album 
Allie Colleen is extremely excited about her first album. She posted a cute video on her Instagram of her opening a box of physical copies of the CDs. A little too excited, maybe. Her unboxing video hit a snag by too much packing material. 
 

 

View this post on Instagram

 
But fans can get their hands on the debut album when it hits her website shop on Friday, April 9th. 
She co-wrote 10 out of 11 of the songs on the album. 
Stones Track Listing
Country music fans got a taste of Allie Colleen's debut album earlier this month with the first single dropped. Listen to "Playin' House" below. 
Allie Colleen describes the songs on the album to Taste of Country as a mix of sassy and sweet.  She said, "[The album] definitely has those really sad Keith Whitley-esque ballads that I've been sippin' on since I was a kid."
Check out the tracklist for Allie Colleen's debut album Stones: 
"Stones (I Don't Give A …)" 
"Playin' House" 
"Don't Give Your Heart to a Cowboy" 
"Vagabond Angels" 
"Wildflower" 
"Only Oklahoma" 
"Blame It on the Weather" 
"Good as It Gets" 
"Well Enough Alone"
"Make Me a Man" 
"Pink Lemonade" 
Physical copies of Stones are available for purchase starting April 9th on her official website. The website lists digital release dates for other singles from the album. The entire album drops digitally on all platforms on Black Friday in November 2021. 
Are you excited for the debut album from Allie Colleen? Let us know in the comments down below.