As fans know, Kelly Clarkson has been missing from The Voice for some time. Don't worry, she's doing well. She just had a sinus infection and wanted to play it safe. In the meantime, Kelsea Ballerini filled in for her friend and has been doing well. Fans love seeing Kelsea in Kelly's seat, even though they miss the singer.
Kelly invited Kelsea Ballerini onto her talk show this week. The two talked about how Kelly had to give the "Hole in the Bottle" singer a crash course on coaching for The Voice. Kelsea had very little time to prepare and needed the help of her friend.
Kelly Clarkson had to coach Kelsea Ballerini
Kelly Clarkson admitted that she was texting Kelsea Ballerini the entire time while she was on The Voice. While Kelly knew that Kelsea was the perfect fit, she wanted to make sure that she knew what to do. The talk show host asked the country singer if she "helped her" or "hurt her" by doing that.
"You helped me so much. And for everyone listening, Kelly called me at 7 p.m. Nashville time and they were shooting the next day at 1 p.m. in L.A.," Kelsea revealed. "I fully went back to college. On the flight over, she sent me all of the blind auditions, she sent me everything about everyone on her team. She loved what she was looking for. So, as soon as I landed, you and I got to talk and you downloaded all of your incredible knowledge."
Kelsea joked that the minute she sat in Kelly's chair, she was looking for the "seat-warmer" she kept talking about. It was cold in the studio at the time of filming. Then, Kelsea said that it's crazy to watch these artists perform on stage. She called this season's talent "really crazy," which she means in a good way.
The singer's "aha moment" with Kelly
Kelsea Ballerini made her first appearance during the Battle Rounds. She assured Team Kelly's that her friend is like the Wizard of Oz. Kelsea told the group that Kelly Clarkson was always watching and texting her. As a result, she became "an expansion of her."
During the show, she found out contestant Ainae Nielsen wanted to become a singer after seeing The Weeknd perform in concert. Kelsea then revealed that she had a similar "aha moment" with Ms. Kelly.
"Like your 'a-ha' moment, I had that moment at a Kelly Clarkson show," Kelsea told the contestant. "I was in the Civic Coliseum in Knoxville. She was singing 'Behind These Hazel Eyes,' and I was just like, 'I have to do with my life.'"
Kelsea has since had a successful music career. She told the contestants that they might inspire other aspiring singers to do the same.
"Whether you're singing in a coffee shop or an arena, you can give someone that moment like I had with Kelly and like what you had with The Weeknd," Kelsea continued. "And like, that's just a really cool gift to give someone."
Now, she's in Kelly's chair. Her career is doing just fine. What are your thoughts on Kelsea filling in for Kelly? Sound off below in the comments.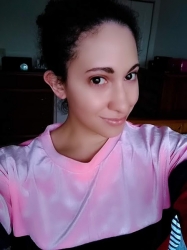 Latest posts by Chanel Adams
(see all)