On Saturday, May 1, Tim McGraw took to Instagram to share what his wife Faith Hill got him for his birthday. Today, the country superstar turns 54. His wife has been very supportive of his special day. Not only did she get him something special, but she also gave him a shoutout on social media.
This comes as no surprise to fans since the couple is always open about their love. When they are not affectionate with each other on stage, they often pile on the PDA in their social media photos. McGraw and Hill are still in love after all these years and it's easy to see why. They're both easy on the eyes and they are amazing partners to one another.
Tim McGraw shares his special birthday gift
On Saturday afternoon, Tim McGraw posted a photo of the book, China: The Novel by Edward Rutherfurd. This internationally bestselling novel talks about Mao's Cultural Revolution in 1839 and leads up to the present day. Rutherford talks about the falling fortunes of the American, British, and Chinese families as they navigate through their respective histories.
This book is packed with adventure, romance, heroines, scoundrels, fortunes, and more. Rutherford did his research when it came to telling the story of Chinese history and society, including its ancient traditions and economic upheavals. In his Instagram post, McGraw called Rutherford one of his "favorite authors." "My birthday present from my wife!" he wrote, as he told his followers that he could wait to "dig in."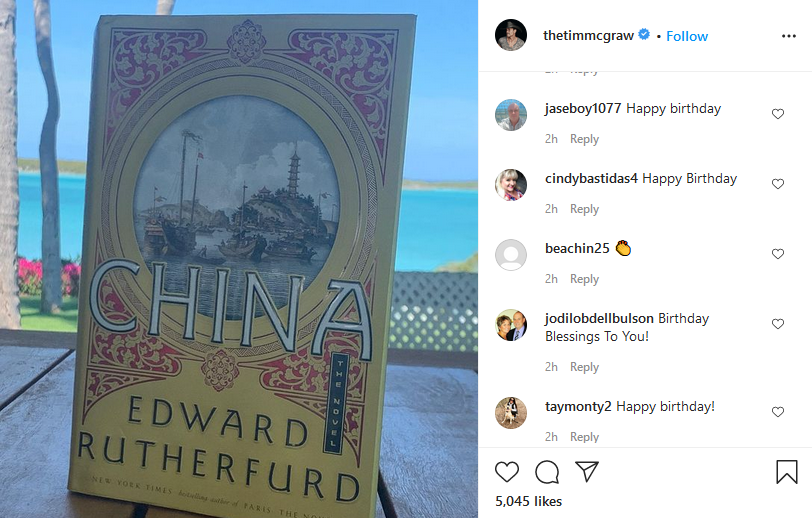 McGraw's post amassed over 5,000 likes within two hours. Most fans took to his post to wish him a happy birthday. Others wondered how he got the hardcover book so fast since. On Amazon, it says it won't be available for release until Tuesday, May 11, 2021. If the film The Devil Wears Prada taught us anything, it's that celebrities know the right people to call to get books in advance for a loved one's birthday.
Faith Hill shares throwback post
Of course, that's not all she did. Faith Hill also took to social media to wish Tim McGraw a happy birthday. She shared an adorable throwback photo. The image shows the couple backstage as Hill runs to McGraw and jumps in his arms. It looks like something out of a romantic movie.
This picture perfectly conveys how Hill feels about her husband. "Happy Birthday to my man, my one and only. I love you," she wrote in the post. The photo has received over 80,000 likes in its 8 hours online. McGraw and Hill love to show their love for one another on social media, especially on their anniversary and respective birthdays.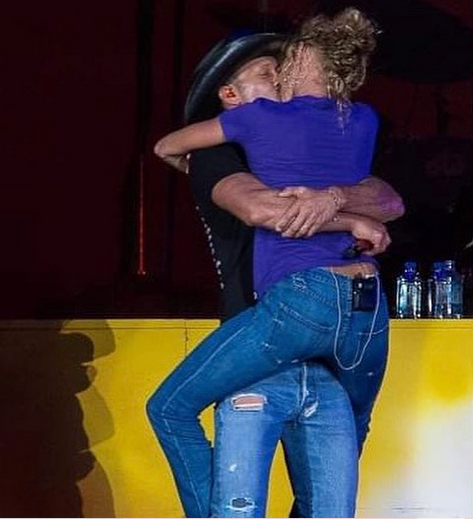 The couple married on October 6, 1996, and they welcomed their first child, Gracie Catherine McGraw, on May 5, 1997. Shortly after, Hill welcomed Maggie Elizabeth in 1998, and Audrey Caroline in 2001. Check back with Country Music Alley for more news on Tim McGraw.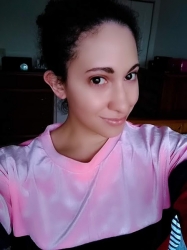 Latest posts by Chanel Adams
(see all)