The Taylor Swift rumors keep on swirling. Last month, fans assumed that she was dropping a new album. They thought there was more left in the singer-songwriter after the release of her 2020 albums, Folklore and Evermore. Some assumed that she was going to add the rumored album Woodvale to the mix. Instead, all fans got was a music video for her new song "The Best Day (Taylor's Version)" from her latest album, Fearless (Taylor's Version).
They know that she's re-recording her new music. Swift previously said she's all empty when it comes to continuing the stories for Folklore and Evermore. She's currently re-recording her six previous albums. Fearless (Taylor's Version) just dropped last month. Now, it's all a matter of time before 1989 (Taylor's Version) is the next to drop.
Taylor Swift rumors keep on swirling
One fan who goes by the name Taylor's World took to Twitter to post their theory. According to the fan, Taylor Swift will make a big announcement soon about 1989 (Taylor's Version) between Thursday and Sunday, but it's likely to happen on Sunday. She may also release a new collaboration with Katy Perry.
Some fans think the former frenemies will be on the "Bad Blood (Taylor's Version)" track. However, that's not been confirmed. So far, Swift hasn't said anything about the upcoming album. She previously took to Twitter to tease fans that she's "working on the next one." Fans assumed that meant a new album. 
🚨 Taylor Swift is expected to make an announcement about "1989 (Taylor's Version)" before Sunday, probably this THURSDAY.

She could release a collaboration with Katy Perry this FRIDAY (not confirmed).

— Taylor's World (@TSWorId) May 5, 2021
They thought Friday, April 30 was the day when they were going to get new Taylor Swift music. But she kept quiet on that day. CMT only released more home video footage from her new music video for "The Best Day (Taylor's Version)." The sweet video shows baby Swift with her mom Andrea, her brother Austin, and father Scott going on family trips and doing other fun activities. The song is featured on her latest project.
Singer dropped 1989 hints before 
Last month, Taylor Swift made an appearance on the Late Show with Stephen Colbert. She addressed the rumor whether "Hey Stephen" was about Colbert himself. Swift also made references to "Shake It Off" and other 1989 nods during a light-hearted segment. This led fans to think that she's gearing up for the re-release of 1989. 
However, it looks like she could be revealing something on May 13. Previously, fans assumed that she'll drop the first single from 1989 (Taylor's Version). Or, she could make an announcement about the album itself. It's not unlike the singer to leave clues for her fans. She left plenty of Easter eggs about Fearless (Taylor's Version) leading up to its release. 
🚨 This FRIDAY is EXACTLY 1 year after @AmericanIdol mentioned "1989" associated with 💙 to promote Katy Perry's single on May 7.

On March 23, Katy Perry teased a collab' with Taylor on the show. On the tweet, there are 6 eyes. 6 weeks after March 23 is this FRIDAY.

Stay tuned pic.twitter.com/iiQNwbvxt0

— Taylor's World (@TSWorId) May 5, 2021
The "Willow" singer has to get creative with each re-release. Does she have that left in her? Only time will tell. Since "Wildest Dreams" is featured in the trailer for the new animated film Spirit Untamed, it looks like 1989 could be the next album she's working on. 
What are your thoughts on the rumors? Do you think Taylor Swift will announce her new album this weekend? Sound off below in the comments.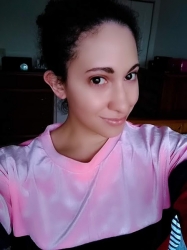 Latest posts by Chanel Adams
(see all)