Carrie Underwood is heading to Las Vegas. On Wednesday, May 12, the superstar singer announced her residency at the Theatre at Resorts World Las Vegas. Underwood will join Luke Bryan, Celine Dion, and Katy Perry. They will headline their respective residencies at the 5,000 capacity venue, which opens on November 21, 2021.
Underwood's Reflection: The Las Vegas Residency will kick off on December 1, 2021. However, there are only five shows scheduled on December 3-4, 8, and 10-11. Regardless, Underwood is excited to get back on the stage. She had to stop touring due to the coronavirus pandemic.
"Soft and Tenderly" singer announces Las Vegas residency
Carrie Underwood took to Instagram to make the announcement." The singer looks angelic in her post. "It's happening! I'm headed to Las Vegas to kick off my first residency, #REFLECTION at The Theatre at @ResortsWorldLV on December !" Underwood wrote in the caption. "Fan Club pre-sale begins this Monday at 10 am PT. Tickets on sale May 24!"
A donation of $1 for each ticket sold will go towards the Make-A-Wish Foundation of America. This comes after Underwood held a virtual concert in support of her new album, My Savior. The concert streamed from the Ryman Auditorium helped raise over $101,000 for a local charity in Nashville.
Underwood raised money for Save The Children to collect over $101,035 as of April 5. She live-streamed the fundraiser from her official Facebook page, which was available to watch for free for 48 hours. Underwood helped raise money for the organization, which "works in over 100 countries to make sure children all over the world grow up healthy, educated and safe."
In a statement released to CMT, Underwood said that touring the country was "one of my favorite things" she used to do. She loved interacting with her fans and performing multiple shows in one night. Underwood calls this opportunity "a special honor to be one of the first artists to get to perform in a brand new, beautiful, state-of-the-art theatre at such an exciting new destination as Resorts World Las Vegas."
Carrie Underwood on returning to the stage
In an exclusive interview with People, Carrie Underwood revealed how she feels about performing onstage after the COVID pandemic hit last year. The 38-year-old says that she is "so looking forward to getting back to normal and singing on a stage in front of people," but she enjoyed the "forced slow down." It allowed Underwood to experiment with different genres of music.
"I guess absence also makes the heart grow fonder," she continued. "As far as the business and being slower and not being able to do all the things we normally do, I feel like everybody's just itching to get back at it. And I certainly gained an appreciation, a new appreciation for what this life is and wanting to get back in front of people on stage."
Underwood said that her upcoming shows will be "high energy." She will make sure to make every show "super exciting and big." Of course, the "Jesus, Take the Wheel" singer will make sure to make it "a little over the top" much like Vegas itself.
"I love wardrobe changes and scene changes and different lighting concepts," Underwood said. "And I feel like we're right now just in that planning phase of 'anything is possible.' And I just look forward to seeing it all take shape."
Are you excited about Carrie Underwood's return to the stage? Sound off below in the comments.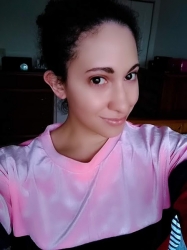 Latest posts by Chanel Adams
(see all)