In the latest "Kellyoke" segment, Kelly Clarkson and her band Y'all performed their rendition of "Lay Me Down" by Sam Smith. Fans found this cover breathtaking. The emotional ballad is about losing someone you love and expressing how much you miss them and want them back. This was a moving performance for the daytime talk show host who's going through a public divorce with estranged husband Brandon Blackstock.
Clarkson has been singing from her heart lately. Recently, she made the rumors swirl that she had a thing with actor Bradley Cooper. However, those rumors were quickly debunked by someone who works in production for the show.
Check out her cover of Sam Smith's "Lay Me Down"
Sam Smith released the song "Lay Me Down" from their debut album In The Lonely Hour in 2014. Smith wrote the song alongside Elviin and Jimmy Naples. Napes and Steve Fitzmaurice helped produce the track. Smith re-released a new version of the song in February 2015 as the sixth single from the album. A third version of the song features John Legend.
Smith and Legend performed the song for the British charity telethon Comic Relief. The song hit No. 1 in the UK in March 2015. The original music video shows Smith and their friends at a casino. After they announced the re-released song, the video was removed from YouTube and Vevo.
On Thursday's broadcast, Kelly Clarkson performed the song at the top of the show. Fans approved of this cover and once again had no words for it. "Here she comes again, just casually pouring some unearthly talent," one fan wrote. Another noted that she gave a "Whitney Houston '90s vibe" to Smith's song.
"She's such a pure soul and ray of light in so many lives."
"Kelly singing this to us like we done break her heart and now we're feeling bad. Damn, she sings right through my soul 💔 definitely one of the best voices of our generation."
"It's SO MOVING how Kelly can reach DEEP inside my heart. Thank GOD for this amazing love!!!"
"Feel so blessed to hear Kelly's voice without paying concert tickets. I appreciate her voice so much gosh."
"Kelly sings these songs so effortless. And I'm sure it takes a couple of rehearsals, but damn. She's always Amazing.🙏🏻❤️"
Kelly Clarkson covered Sam Smith before
This isn't the first time that Kelly Clarkson covered a Sam Smith song. In August 2020, she sang along to "How Do you Sleep?" Clarkson felt the emotional lyrics as she said at the end, "Woooo! Sam Smith can write a song y'all!" The American Idol alum lent her vocal talents and belted away at the pop ballad from her home as her house band played from the studio.
In March 2020, Clarkson made viewers smile when she covered Sam Smith's "Too Good At Goodbyes." Once again, she showed off her impressive vocals in the clip, which was pre-recorded due to the COVID-19 restrictions. A choir joined Clarkson, as well as her backup band. Which cover do you like the most? Sound off below in the comments.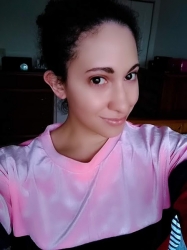 Latest posts by Chanel Adams
(see all)