Taylor Swift fans have a feeling that the singer will announce 1989 (Taylor's Version). Many of them predicted that she would make an announcement about the re-recorded album or upcoming single on May 13. After all, Swift's lucky number is 13 and she uses the 13th day of the month to announce her new projects. Many Swift fans have looked for Easter eggs in her Instagram posts and videos and think she's coming out with a new project soon.
Some thought it was Woodvale, the follow-up to Folklore and Evermore. However, most fans think Swift will focus on the re-recorded songs to the 1989 album. She teased them with hints on Late Night with Stephen Colbert and the 2021 BRIT Awards. But did her fans get the clues wrong this time around?
Swifties have a theory about the 1989 re-recordings
Most fans think Taylor Swift will announce 1989 (Taylor's Version). At the time she announced Fearless (Taylor's Version), she dropped a remix of "Wildest Dreams" which was featured on a trailer for Spirited Untamed. Swift also teased fans on Twitter that she's working on the next album. Since then, she has kept quiet about the next re-release.
Meanwhile, fans have been looking for clues in her interviews and music videos. One fan on TikTok connected the bird audio from "Love Story" and "Wildest Dreams" to a new theory.
"So there's been a lot of debate on what the bird sounds on her re-release songs are," the fan said. "And I just happened to look at the 1989 album. She has birds on her shirt. 1989 is coming."
Fans also noticed that Swift wore light blue nails at the 2021 BRIT Awards. She also donned a crop top and her signature red lipstick, which she wore all throughout the era. This led some to believe that she was announcing 1989 as the next album. So far, they have been waiting and gotten crickets instead of birds.
Taylor Swift fans frustrated with singer
Taylor Swift fans are frustrated. None of the Easter eggs or the clues have worked in their favor. Usually, they get them right. What gives this time around?
Is Swift pulling their leg by dropping these clues and not following through? Maybe she's having a little fun at their expense. Most of them took to Twitter to call out the singer. Some of them are bored over trying to guess the clues. Others just want Swift to make an announcement already.
"

I was lowkey hoping we'd have at least the

announcement

of the next re-recording by my birthday…but since she's doing chapters…we probably won't..

#taylorswift."

"

@taylorswift13

bestie I'm still waiting for your announcement. It's like 2 am here so please just announce something so I can sleep in peace LMAO."

"Could really go for a @taylorswift13 announcement today. #ThisIsMeTrying #TaylorsVersion."
"

I really love you but if 1989 TV is not next I'll sue you

@taylorswift13

MAKE THE

ANNOUNCEMENT

ALREADY QUEEN I'M TIRED OF WAITING AND CLOWNING

."
'Cause one second it was perfect… The Halfway Out The Door Chapter, featuring songs from #FearlessTaylorsVersion, is out now!

Listen at https://t.co/DFWDHVY4og 🚪✨ pic.twitter.com/XjOPliB5wz

— Taylor Nation (@taylornation13) May 13, 2021
Instead, fans got the announcement for The Halfway Out The Door Chapter EP, which features songs from Fearless (Taylor's Version). One fan noted that since today is the 13th and it says "we're halfway out the door," which means that an announcement could come by May 26. What are your thoughts? Do you think she'll announce 1989 (Taylor's Version) soon? Sound off below in the comments.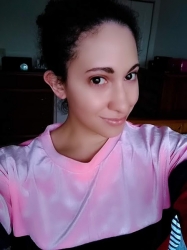 Latest posts by Chanel Adams
(see all)