Kelly Clarkson is sorting out your summer. The daytime talk show host moved from the stage to the kitchen this week. First up, she tried two different summer cocktails with gin. Mixologists Jon and Lindsay Yeager of Pour Taste showed Kelly how to make these delightful and colorful floral gin cocktails.
Next, Kelly decided to get on the viral popcorn salad craze. YouTube star Rosanna Pansino showed the singer how to make this viral food sensation. Months ago, it went viral for this unlikely concoction. When most people have salad and popcorn, they don't of mixing them together.
Kelly and Rosanna try other unique mixes as well.
Kelly Clarkson shows you summertime cocktails
On Saturday, June 12, The Kelly Clarkson Show shared this video of Kelly Clarkson learning how to become a mixologist for the day. The American Idol alum decided to make cocktails for the summertime. Kelly Clarkson let Jon Yeager and Lindsay Yeager take over the kitchen for her. The couple showed how to make summertime cocktails.
The secret behind their drinks is gin. First, they made the "Aviation" gin cocktail, which is a combination of gin, maraschino, lemon, and Creme de Violette. The last ingredient is what makes this drink "floral" and "summertime," according to Jon Yeager. This classic will cool you down on a hot summer day.
This mix looks like a pretty pink drink. It's perfect for anyone to drink. Don't be fooled by its color — it's a "bada**" drink says, Jon. Then the color moves onto their sweet and refreshing cocktail the "Ginger Lindsay," aptly named after Jon's wife. This simple drink contains gin, ginger, lemon, and cucumber.
The couple also gives viewers a glimpse into Nashville's Corsair Distillery, which used to be a car manufacturing plant. Unfortunately, you won't get a glimpse of Kelly trying any of the drinks. Regardless, it's still an educational video that will teach you about mixology and cocktails.
What about that viral popcorn salad?
Kelly Clarkson invited YouTuber Rosanna Pansino onto the show. During the Thursday, June 10th episode, the star took a break from her hit HBO Max series Baketopia to show Kelly how to make some of the viral food sensations. On the show, the two make dalgona coffee, rainbow toast, and the infamous popcorn salad that set off social media by storm.
Kelly was up to this challenge. However, these viral food trends may turn some stomachs. The viral popcorn salad is the most polarizing out of all the social media trends. Some think it's too soggy while others think it's too crunch. It's all a matter of taste.
Rosanna was uncertain about trying it. Kelly noted that it smelled good and said what's not to love about salad and popcorn together. They both took a bite at the same time. Kelly wasn't a fan, while Rosanna said she doesn't like it and she doesn't hate it. Kelly joked that she "could be super-hungry" and "not eat this."
Still, she had a good time. She thinks these viral foods are fun to do when you have nothing better to do. The Kelly Clarkson Show airs on weekdays. Check your local listings for details.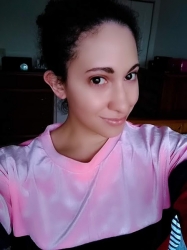 Latest posts by Chanel Adams
(see all)