Morgan Wallen has got to have some of the most loyal fans in the country music industry. Morgan admits that he made some poor choices. Then, he becomes the target of cancel culture. This comes after a video of him using a racial slur in his driveway gets sent to TMZ. Now, he's slowly but surely coming out into public again. However, his sister, Mikaela Wallen has a strong message for her brother's fans. Keep reading to find out what she has to say.
Morgan Wallen's sisters seem to always have his back
This isn't the first time that one of Morgan Wallen's sisters takes to social media in support of their brother. During the thick of his racial slur controversy, his mom and both his sisters were strong advocates for his forgiveness.
In a statement, Morgan's mom, Lesli, says, "I stand with Morgan Wallen, who made a mistake and is paying dearly for it. Country Music Associations, businesses, radio stations, and agencies, top using him as a pawn." At this time his sister, Ashlyne writes on Instagram, "Forgiveness and love is needed on all sides, not hate. Hate produces more hate. This isn't solving problems. Your round table discussions are not solving problems."
View this post on Instagram
Morgan has very loyal fans
Due to Morgan Wallen's controversy, he was banned from most of the major music awards ceremonies. However, that didn't stop his fans from rallying together to show their support. Ahead of the 2021 ACM awards, his fans got together to "Wallen-Paper" Nashville. This movement raised enough money to put up six billboards.
Morgan Wallen Sees Six Fan-Funded Billboards Pop Up Ahead Of ACM Awards
Morgan's sister, Mikaela steps in
Now, it seems like fans are taking things too far. Morgan's sister, Mikaela takes to her Instagram to share her feelings on some things fans are doing. In her Instagram Story, she shares the following. The proud sister writes, "Like you guys are fans of my brother, that's great!"  Next, she shares some acceptable ways that fans can support her brother. "Keep supporting him, go to his concerts when he's back, buy his music and merchandise."
However, things take a turn for the worse as Mikaela explains some unacceptable Morgan Wallen fan behavior. "You don't support your favorite artist by being creepy as hell and showing up at our parent's house." Mikaela elaborates on this. "It's crossing hard set boundaries, it's disrespectful and common sense you don't just show up to people's houses. Like who raised y'all to think that's okay???"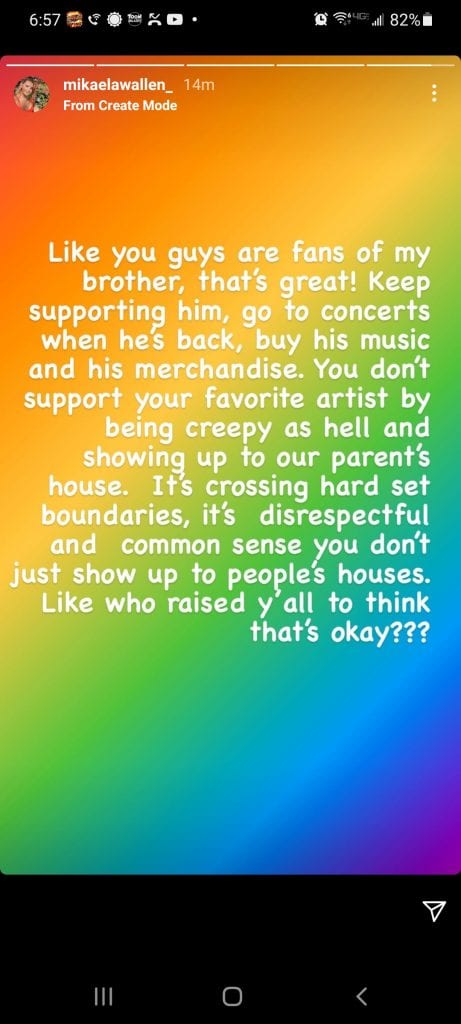 It doesn't stop there
Unfortunately, it doesn't seem like the text in her Instagram Story was enough to deter Morgan Wallen crazed fans. Later, she posts a video. The video shares some of the same sentiment. She adds that she doesn't care if her parents' address online, people need to be respectful and leave it alone. Notably, she uses some pretty harsh language in the video. The video can be seen at this link.
What do you think about Morgan Wallen's fans? Do you have any thoughts on what Mikaela Wallen shares with her brother's fans? Let us know in the comment section below. Make sure to come back to Country Music Alley for more news about your favorite country stars.