Tanya Tucker won't be hitting the road as early as she hoped. A medical emergency caused the country singer to require surgery ASAP. She gave fans an update on her condition. 
Tanya Tucker Cancels Tour Dates Amid Emergency Surgery
Like most musicians, Tanya Tucker was looking forward to getting back on the road. Many artists had to cancel or postpone tours in 2020 due to the coronavirus pandemic. The "Delta Dawn" singer was plotting a 2021 tour called Bring My Flowers Now, named after her Grammy winning hit song of the same name.  
The tour started in June and was slated to continue through the summer and fall, ending with a show in Las Vegas in December. However, the remaining July dates were suddenly canceled earlier this week due to a medical emergency. 
Tanya Tucker has battled health issues on-and-off for years. According to her representative, the country singer needed an emergency hip replacement after an MRI showed a hip fracture. 
Unfortunately, that means the show can't go on. At least, not for now. Music Mayhem reports that Tanya Tucker's scheduled tour stops in Twin Lakes, Wisconsin, and Hinton, Oklahoma have been canceled.
Singer Posts Heartfelt Message After Outpouring From Fans
Tanya Tucker seems to be ""Hangin' in, hangin' out, hangin' on," as she sings on her 1993 hit "Hangin' On." She took to her Instagram after the tour cancellation news to thank her fans for their support. 
First, she confirmed her rep's earlier statement about the hip fracture. "My hip has been giving me hell for awhile now," she explained. Furthermore, she shared an important update with her fans. 
"The operation went well and I'm on track for a speedy recovery," she wrote. Does that mean the rest of the tour is still on??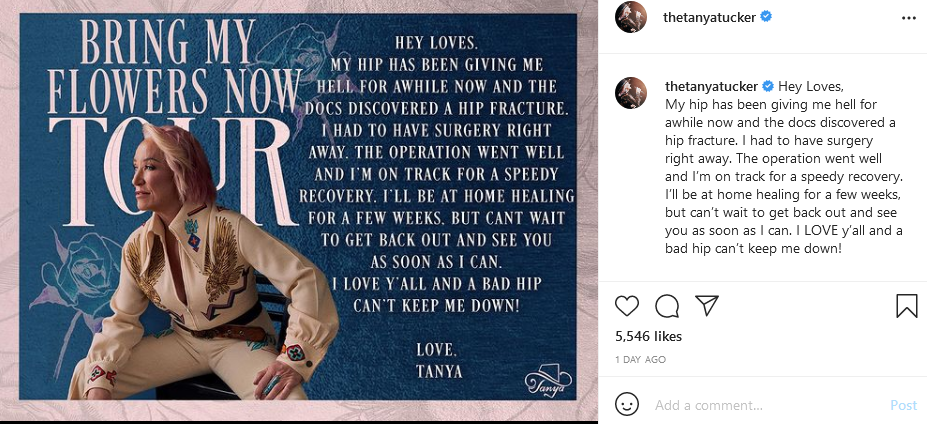 Is the Whole Tour Off? 
So far, only the last few tour dates in July have been canceled. As of publication, her shows for August and beyond are still happening. She gave a hint in her note to fans that the tour will continue. "I'll be at home healing for a few weeks, but can't wait to get back out and see you as soon as I can.." 
Tanya Tucker ended her post with her usual tough stance: "A bad hip can't keep me down!" 
Her canceled shows will likely be rescheduled for after her recovery. Country Music Alley is wishing Tanya Tucker a quick recovery so she can get back on the road. 
 

 

View this post on Instagram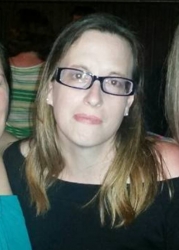 Latest posts by Jennifer Havener
(see all)