Luke Bryan just celebrated his 45th birthday. That's right. The country star is the same age as his best friend, Blake Shelton. The two look alike and sound alike, except to their hardcore fans. Some people mistake the two for one another.
Luke and Blake are even on the same career path. They are both on popular singing competition shows. Also, they both have their own respective alcohol ventures. Like Blake, Luke is making his grand return to the stage. So, he decided to do something special for his big day.
Country singer brings young fan onstage
Luke Bryan was feeling the birthday spirit. He decided to invite a 7-year-old fan onstage for a special duet. The singer kicked off his Proud To Be Right here tour in Washington, D.C.'s suburban area of Bristow, Virginia. He performed live at the Jiffy Lube venue. The American Idol judge invited a fan onstage.
Country music fans and artists alike have missed this type of interaction that goes on. Luke's tourmates, Caylee Hammack and Dylan Scott, joined him on stage along with his wife, Caroline. They sang "Happy Birthday" to him. But that's not all that happened.
Luke invited a 7-year-old fan named Darci Claire. He couldn't help but notice that the young girl was singing along to every word of his new song "Waves." Luke invited her to perform his 2020 single "Down to One." Darci stood out in the crowd with her "Country Girl Shake it For Me" T-shirt.
"That was awesome," Luke told the crowd. Then he told the little girl, "Come here!" and invited her up on stage.
She excitedly joined the singer onstage. The two sang perfectly alongside each other. It was a special moment for Luke's milestone birthday. After their performance, he told the crowd, "Y'all give it up for Darci!"
Luke Bryan receives a unique birthday gift
Later in the performance, Luke Bryan received a gift from a fan with an important message. One person tossed a T-shirt onstage that read, "Hey Luke, I want to adopt my stepson Michael. Can you help me ask him?" Luke read the T-shirt out loud to the cry and handed his microphone to Michael and his potential father.
He allowed Michael and his stepfather to become the star of the show – for only a few short minutes. The two talked about their relationship. Michael gladly accepted his stepdad's offer. Obviously, Luke and everyone else in the crowd were touched by their emotional story.
"That's the coolest thing I've ever watched right there y'all," Luke said. "Michael, you got a good dude right there standing behind you buddy. That's awesome. Congratulations y'all."
Luke didn't make his concert all about him. He wanted to commemorate the fans at his show. This is sweet considering that concerts are finally back in full swing. Without the fans, there wouldn't be a show.
Check back with Country Music Alley for more news on Luke Bryan.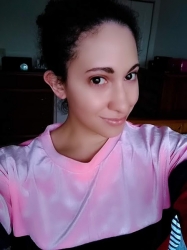 Latest posts by Chanel Adams
(see all)