Miley Cyrus and her younger sister Noah Cyrus reunited on stage. They rang in 2022 with a cover of Dolly Parton's 1973 song "Jolene." The 29-year-old and the 21-year-old performed on Miley's New Year's Eve Party. She co-hosted the live NBC program with Saturday Night Live cast member, Pete Davidson.
The "Bangerz" singer narrowly avoided a wardrobe malfunction. She also got on stage with Noah. Both of them were dressed in strikingly different looks. Noah rocked a navy blue dress that featured a high slit and shoulder-length gloves. Meanwhile, Miley wore a silver metallic fringed jumpsuit. Their new version of Miley's cover brought the house down.
Covering Dolly Parton's "Jolene"
Noah and Miley wanted to count down to the new year in a big way. They joined forces to perform Miley's cover of "Jolene." She first performed it in 2012 or her Backyard Sessions series on YouTube. The cover went viral on social media and remains one of Miley's most iconic performances. Fans agree that Miley's vocals are perfect for the song.
The video has over 330 million views. As a result of the cover, it led her to perform with her famous godmother. This time, Miley and Noah put a twist on the cover. As they sang, they showed love for one another. Fans could tell that these two sisters are close and there's no sibling rivalry between them. Noah pointed at Miley when she sang the line, "and I know I can't compete with you, Jolene." After they performed the song, they gave each other a hug.
If you missed out on the New Year's Eve show, don't worry. You can check out their "Jolene" cover in the video before. You can also watch Miley's original "Jolene" cover in this article. Let us know which version you like better.
Miley Cyrus suffers wardrobe malfunction
The "Wrecking Ball" singer also suffered a wardrobe malfunction during the live event. Shortly after ringing in the new year, Miley performed her hit songs "Party In the USA" and "We Can't Stop." Miley was so into her performance that her silver crop top fell off. She accidentally flashed the country on live television. The former Disney star paired her silver halter with a matching mini-skirt that barely covered her bottom.
Being the exhibitionist that she is, she didn't let the wardrobe malfunction embarrass her. Miley quickly ran off stage to handle the snafu. The singer returned with an oversized red jacket. Later on, Miley's co-host, Pete joked, "I heard we had a little boob slip, so in solitary, here are my boobies." The comedian lifted up his shirt to the crowd.
Miley and Pete hosted the two-hour special on NBC. What are your thoughts on Miley and Noah's cover of "Jolene"? Sound off below in the comment section. Check back with Country Music Alley for more news on Miley Cyrus.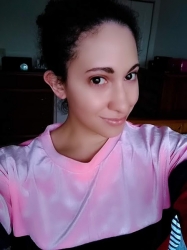 Latest posts by Chanel Adams
(see all)