Gwen Stefani drove fans wild with her latest Instagram post. She shared never-before-seen footage of her "old school" self. Fans know the No Doubt singer for her ska-punk style. However, they've never seen her like this before.
Gwen has never shared her country girl side until she started dating Blake Shelton. The two met in 2014 on the set of The Voice. They took their friendship to the next level in 2015 after their respective divorces. Suddenly, Gwen took an interest in all things country.
She previously shared that she was always a cowgirl at heart. Her fans just didn't know it yet.
Gwen Stefani shares a clip from her childhood
On Wednesday, February 22, Gwen Stefani celebrated the launch of her new cosmetics brand with a rare clip from her childhood. She's sharing "chapters" of her life with her fans. The footage shows her dressed up as a cowgirl. Little Gwen wears a plaid shirt with a cowgirl hat and jeans.
"Chapter 1: Old School Me," Gwen Stefani captioned the post. "Back where it all started. GXVE coming soon. Link in bio."
The rare footage featured childhood photos from when she was a little girl. She shared black-and-white photos of herself dressed up as a cowboy. There was also an adorable clip of her father tickling her chin.
chapter 1: old school me. back where it all started ↓https://t.co/8vCd4gAxIm#GXVE pic.twitter.com/081yhJqttS

— Gwen Stefani (@gwenstefani) February 22, 2022
Gwen Stefani also held hands with one of her older brothers. She also shared footage of herself playfully sticking her tongue out at the camera. Other clips included photos from when she was just a toddler. The "Slow Clap" singer rode a bike without training wheels.
In another photo, Gwen Stefani snuggled up with cute kittens. The Instagram post feels as if fans are flipping through her scrapbook. The pop star teased that there was more to come. Gwen is gearing up for the launch of her GXVE cosmetics line.
Fans love seeing the throwback photos
Gwen Stefani fans took to the comment section to share their thoughts. Most of them were shocked to see her dressed up as a cowboy. However, this isn't the first time she's shared old photos of her embracing her country roots. Others can't wait for the release of her new makeup line.
"You are so adorable! Can't wait for its release!"
"Can't wait! Love you Gwen."
"Awwwwwwww adorable."
"Oh my goodness this is precious!!!!"
The "Sweet Escape" singer has been teasing something new on social media. Earlier this week, she shared what she's been cooking up lately. Gwen Stefani has been working on her new makeup brand. This comes just years after her Harajuku Girls makeup collaboration with Urban Decay.
What are your thoughts on Gwen Stefani's childhood photos? Are you surprised to learn that she was a country girl all along? Sound off below in the comment section. Check back with Country Music Alley for more news on Gwen Stefani.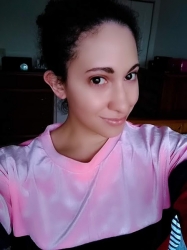 Latest posts by Chanel Adams
(see all)