Carrie Underwood couldn't hold onto this announcement anymore. The country singer took to social media to share the name of her forthcoming album. This comes just weeks after she released her new single, "Ghost Story."
Now, fans are finally getting more details about her new album. Carrie is making her big return to country music.
The good thing is that it will correlate with the remaining dates of her Las Vegas residency. So, it's likely that she might perform some of the new songs during her shows scheduled for April and May.
Carrie Underwood announces new album
Carrie Underwood admitted that she "can't wait any longer." She shared the amazing news with her fans on social media. The "Jesus Take the Wheel" singer couldn't keep this news to herself anymore.
On Thursday, April 7, she took to all of her social media platforms to announce the name of her new album. She also shared the release date.
"I can't wait any longer!! I have a new album coming June 10!" Carrie Underwood wrote. "Get ready for #DenimAndRhinestones! Pre-order beginning at midnight ET."
I can't wait any longer!! I have a new album coming June 10! Get ready for #DenimAndRhinestones! Pre-order beginning at midnight ET! 💜💎 pic.twitter.com/Cz0kBQn0KY

— Carrie Underwood (@carrieunderwood) April 7, 2022
Carrie Underwood also unveiled the album's cover. She strikes up a sultry pose in a denim bustier dress. It features straps of multi-colored denim with buckles. Carrie finishes off her look with a denim jacket that features silver fringe on the sleeves. She also talked about what fans can expect from her new album.
"I feel like people are going to hear everything and [get] some warm fuzzies and hopefully it'll just make people happy to listen to," Carrie Underwood said, per People. "It's a very 'sing into your hairbrush, in your house, in your room' kind of album."
It's the follow-up to her 2021 release, My Savior, and her 2018 release, Cry Pretty. She is making her big return to country music after taking a break from the music genre. Carrie was all about gospel and Christmas music for the past few years. She even explored other genres and musical styles.
American Idol alum experiments with a new sound
Carrie Underwood is feeling inspired this time around. Allowing her to explore other genres has allowed her to experiment with a different sound on this new album. She released the album's first single last month. The track is about a woman who haunts their ex forever.
"It just didn't sound like anything else that's on the radio right now," Carrie Underwood said on Today's Country Radio with Kelleigh Bannen in March. "And I feel like it was a great first choice first single, because I feel like it's enough of hopefully what people like about me. There's some drama. It's a cinematic song. It's a great story song."
She called the process of making the album "a lot of fun" and said she wrote a lot of songs on it. Despite her feelings about this new album, Carrie previously called My Savior "the greatest project" she's ever worked on. In December 2021, Carrie kicked off her Las Vegas residency at Resorts World.
What are your thoughts on Carrie Underwood's new album? Are you excited that she's returning to country music? Which album of hers is your favorite? Sound off below in the comment section.
Check back with Country Music Alley for more news on Carrie Underwood.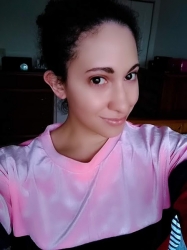 Latest posts by Chanel Adams
(see all)