Carrie Underwood shared a special moment with fans. The singer shared footage of herself listening to her song "Ghost Story" for the very first time. She's been teasing her fans with new music for some time. During her 39th birthday celebration, she dropped a hint that this year was going to be a good one.
Amid the thousands of happy birthday messages Underwood received, fans wanted to know if it meant that she was working on new music. They've been patiently waiting for her return to country music. Underwood released a new song just in time for the March and April dates of her Reflection residency at Resorts World Theatre in Las Vegas.
Carrie Underwood drops new song
It's new music Friday. Carrie Underwood released her new single "Ghost Story." The song appears to be from an upcoming project that the American Idol winner is working on. Underwood has not revealed any more details about her forthcoming album.
Carrie Underwood called the song "a really powerful revenge song." If you guessed it, the song is a breakup song. On the new track, she sings that she's someone's "Ghost Story." Check out the song for yourself in the video below.
She also told her fans, "welcome to a new era." The country singer is best known for her breakup singles. Underwood's most popular crossover chart-topper from 2005 is "Before He Cheats." So, it looks like she's going back to her routes.
Her latest single is about getting back an ex. Carrie Underwood said in a press release that it's "a different take on a revenge song." This time, she's not in the mood to smash someone's car windows. She wants to seek revenge in a unique way.
"Instead of smashing headlights, this scorned lover is letting her ex know that she will continue to haunt him, no matter how hard he tries to forget her," Carrie Underwood said.
It's no surprise since she's a huge fan of horror films. This time around, Underwood teamed up with songwriters David Garcia and Hillary Lindsey for the track, which she produced with Garcia. She calls the song "thrilling" and "dramatic."
Underwood also had a lot of praise for her songwriters. The blonde beauty calls "Ghost Story" a "mood" and "vibe" that is unlike anything she's ever done. This new sound may also be the direction she takes for her new album. Underwood wanted to do something different for herself and her fans.
Shares special moment with fans
Carrie Underwood's new song is already playing on the radio. On Friday, March 17, she shared a clip of herself listening to "Ghost Story" in her car. The "Jesus, Take the Wheel" singer wore a denim patchwork jacket as she danced along to her new song. Underwood wore her signature blonde hair down with a middle part.
"First time hearing #GhostStory on the radio on @98wsix this morning!💜 @iheartcountry," Carrie Underwood captioned her Instagram post. 
Fans took to the comment section to share their thoughts on the new song. Most of them are looking forward to new music from their favorite singer. Others can't wait for her return to her Las Vegas residency.
"coming for #1."
"Love it! Cannot wait to jam to this song on the radio."
"Girl. Your voice + any song = amazing."
"New favorite song."
"This song is AWESOME!!!!!!!"
What are your thoughts on Carrie Underwood's new song? Are you glad she's back to making country music? Sound off below in the comment section. Check back with
Country Music Alley
for more news on Carrie Underwood.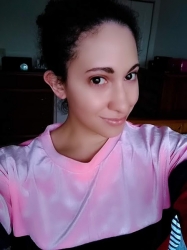 Latest posts by Chanel Adams
(see all)