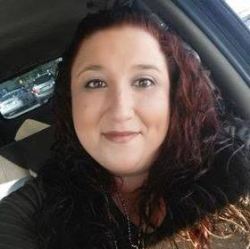 Latest posts by Nikki Desrosiers
(see all)
As country fans grieve the loss of legend Naomi Judd, so too do her friends and admirers in the industry — including Carrie Underwood. The 39-year-old songstress took to social media to share a touching tribute to her fallen fellow country songstress. Read on to find out what Carrie said and how her fans reacted to it.
Country Legend Naomi Judd Dead At 76
Late Saturday afternoon, the Associated Press broke the news that country music legend Naomi Judd had passed away at age 76. The information for the release was provided by Naomi's daughters, Wynonna and Ashley Judd.
According to the press, Naomi's passing was related to a long time battle with "mental illness." Unfortunately, many fans suspect that after a long battle with bipolar disorder and depression that Naomi may have had a hand in her own passing. Details involving Naomi's cause of death are not yet public.
"Today we sisters experienced a tragedy. We lost our beautiful mother to the disease of mental illness," her daughter's statement reads, "We are navigating profound grief and know that as we loved her, she was loved by her public," wrote Wynonna Judd on Twitter Saturday. Fans joined her in her grief, leaving more than 6.6k comments on the post. Many sent their prayers for the sisters and their family, as well as kind words and healing vibes.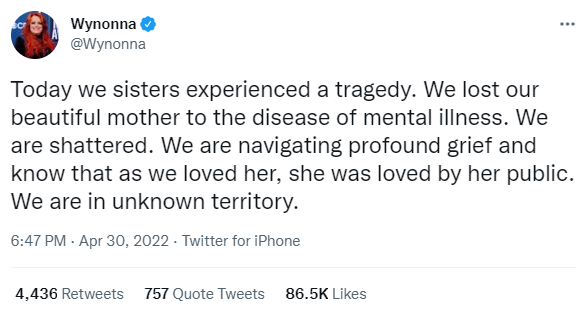 Carrie Underwood Shares Touching Tribute
Just moments after the news about Naomi Judd's death was released, Carrie Underwood took to Twitter to share her feelings. The Grammy winner told her fans that country music had lost a 'true legend.' She went on to say that her thoughts and prayers were with Wynonna and Ashley Judd during this tragic and difficult time.
"Country music lost a true legend…sing with the angels, Naomi!!! We're all sending up prayers for the Judd family today," Carrie wrote in her post.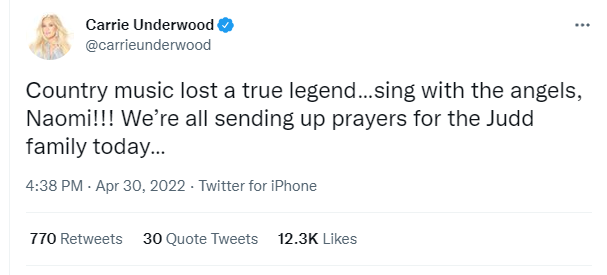 As expected, thousands of country music fans were quick to agree with Carrie, commenting on her post that they too looked up to Naomi and admired her for her contributions to the industry. Many fans reminisced about their favorite song from The Judds, and how it affected them. Others wished her daughters well and said they would also be keeping them in their prayers.
"This is a hard one to hear," wrote one user, "I had the privilege of meeting her twice. She was an amazing woman who I admired. My thoughts and prayers are with her family, friends and fans."
"We truly lost one of the best," added another, "Heaven gained a true angel. Merle, George, Tammy, and the others are having the biggest celebration today. Praying for the Judds family as well as the country music family."
Naomi's Legacy Lives On
Sadly, Naomi's tragic battle with her mental health cut short what was looking like an exciting year for the country legend. On Sunday, The Judds got inducted into the Country Music Hall of Fame.
Additionally, Naomi and Wynonna were preparing to embark on their 'Finale Tour' later this year. The 10-show would have started in September 2022.  As of now, no word on what the family plans to do about previously sold tickets.
Were you a fan of The Judds? Tell us in the comments!