Kelsea Ballerini has a lot going on in her life. She recently revealed that she and her husband, Morgan Evans have separated after five years. This has been a hard and trying time but she has not had much time to mourn and be sad. The performer is heading out on a ten-night tour to promote her new album Subject To Change. However, there is one thing that she has foregone for this tour and has taken into her own hands. What is it and how has it actually benefitted her? Read on for more details.
Kelsea Ballerini Leaves Her Glam Behind
Her Heartfirst tour starts this coming Saturday. Yet, Kelsea is putting one tour essential into her own hands: her glam. According to an interview with People, the country superstar opted not to bring a makeup artist on tour with her. Rather, she will be doing it herself this time but admits that she is not a pro by any means. "I am a singer. I am not a makeup artist, but I do my best."
She goes on to add: "I used to have someone come out with me on tour for the whole tour to do my makeup. But as I've toured more and more and I feel like I've gotten to learn from some of the best makeup artists in the world, I have picked up enough along the way where now it's something that I just enjoy having my me time doing." For Kelsea, her makeup routine has actually become a relaxing ritual for her.
She admits that she uses the back of her bus as her station, listens to a podcast or music, and just goes into a zone. It actually helps get her to where she needs to be mentally to get on the stage. Furthermore, Kelsea revealed that sometimes just the act of putting on her makeup helps perk her up, even at home. Now fans will get to see her art both musically and facially in a few short days.
Picking Herself Up
Kelsea Ballerini has not been shy about her feelings since announcing her separation. She and Morgan had a whirlwind courtship, dating for less than a year before they knew they wanted to get married. A year later, they were married and hoped to spend forever together. Unfortunately, that was not meant to be. On the bright side of things, Kelsea has been able to shift her focus to her new album and her exciting tour. Plus, it seems she might have a budding makeup career ahead of her.
What do you think about Kelsea Ballerini opting to leave the professional glam team behind? Are you excited about her new album Subject To Change? Let us know in the comments below.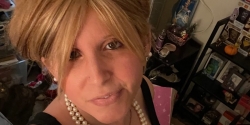 Latest posts by Amanda Nowitz
(see all)