Ashley and Wynonna Judd lost their beloved mother, Naomi back in April. The songstress took her own life at 76 and left behind a $25 million estate. However, she did not leave anything to her daughters but to her husband, Larry Strickland. Now, there are questions if the women are battling it out over Naomi's estate. Wynonna spoke with People and explained exactly what is true and what is made up about their rumored feud. Read on for more details.
Are Ashley & Wynonna Judd Going At It Over Naomi's Estate?
According to what Wynonna has told People, there is zero truth to the sisters battling it out. "I have such a great life. Ashley has a great life. Why would we be fighting over the will?" said the singer. There have been rumors that the two have been fighting for quite some time. Wynonna, 58 learned of this recent battle when she was actually at Ashley's home. Though their stepfather, Larry currently is in charge of Naomi's estate, when he passes, the girls will then split it. Naomi was married to Larry for over thirty years when she passed away.
Wynonna went on to add that the sisters, who are four years apart, do not plan on contesting anything. "I am the last person in this family — and if Ashley was here, I'd hope she'd agree with me — who knows stuff like this. I'm not savvy enough to go, 'I'm going to contest the will.' It never occurred to me," added Wynonna.
Despite the rumors, the sisters have grown closer since their mother's passing. Wynonna shared that they lean on each other much more with her leaning much more on Ashley. She noted that she is now officially an orphan with both of her parents gone so it has not been easy. However, she has pushed through by continuing the tour she and Naomi were supposed to head out on.
Keeping Naomi's Legacy Alive
Wynonna Judd and her mother were supposed to tour together as The Judds. This would be their first tour in over a decade. Rather than cancel it, Wynonna decided to persevere not just for herself but for the fans and her mother's legacy. Now, at the end of the show, she plays a montage of clips featuring her and Naomi. She is also joined by some of the best in country music such as Martina McBride and Little Big Town. In the end, she will head to Mexico for Brandi Carlile's Girls Just Wanna Weekend at the Hard Rock Hotel and Barceló Maya Riviera for five days.
Are you surprised that Wynonna and Ashley are letting the estate be? Let us know in the comments.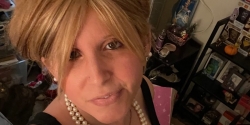 Latest posts by Amanda Nowitz
(see all)