Latest posts by Mandy Robinson
(see all)
Carrie Underwood is stunning as she shows off her super-fit figure while enjoying an indoor workout.
The country singer and CALIA by Carrie founder continues to prove that she has many strings to her bow. A recent appearance saw her promoting her Fit52 app which launched in 2020.
Carrie was featured on the Fit52 Instagram this week. The blonde was showing off her workout moves and her gym-honed body, also looking super stylish in tight white leggings.
Carrie Underwood Stuns In Leggings For Workout Time
The video showed Carrie in full cardio mode and solo to start with.
Carrie was jogging on the spot and lifting her knees up high while in her leggings and a loose and pale lavender tank top. Both were likely from the "Cry Pretty" singer's CALIA clothing range. Carrie added in crisp white sneakers while showing off her toned legs, also flaunting her gym-honed arms as she burned some calories.
The mom of two wore her blonde locks swept back.
Next up came footage of Carrie with trainer Eve Overland as the two got their strength work on while on yoga mats. The post was out to remind fans that just five minutes of workout time per day can make a difference.
— Kelly Summers (@KellySummersTV) October 18, 2022
Carrie Underwood Promotes Fit52 App
A caption told followers of the app:
"Five minutes is better than no minutes." It continued: "We created our Daily 5 Move & Daily 5 Stretch series to help you fit in some movement, no matter how hectic your day is! Find these *free* sessions in the app and give them a try, no trial or credit card required. Let's get moving!"
Carrie's app was released in March 2020 and along with her Find Your Path diet and exercise book. In a statement amid the dual release, Carrie stated:
"Fitness is a true passion for me." The workout queen added that her app "incorporates what I've been doing myself for years, and we've made it easy and totally accessible for anyone that wants help to work in working out. We worked really hard to create a high-quality, user-friendly app that is designed for busy people and their busy lives."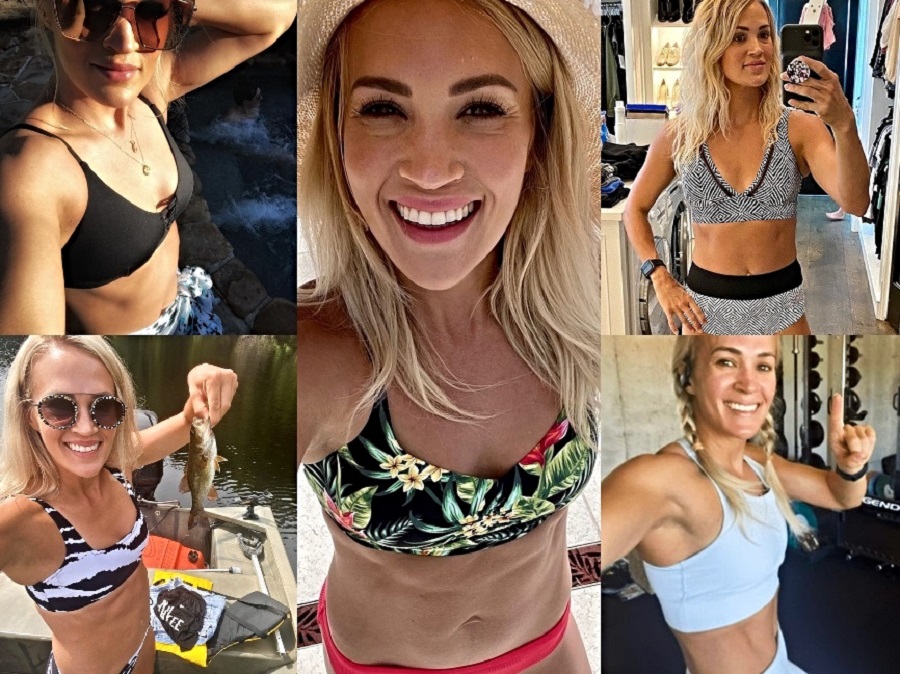 Carrie Underwood Joins Fellow Country Music Entrepreneurs
Carrie is not alone in the world of country music faces now making big bucks as they launch their own brands. Also offering clothing are Miranda Lambert and Jessie James Decker – Decker joins Underwood in also offering recipes.
Carrie also places emphasis on body positivity via her clothing range. "We're different shapes, sizes, ages. It's important to encourage people and be a part of people's journeys, no matter where they are in those journeys," she has stated. More so, models are of various shapes and sizes.
Finally, for more on Carrie, her music, and her fitness, check back here!