Latest posts by Mandy Robinson
(see all)
Morgan Wallen recently had to cancel a concert because of losing his voice. The cancelation didn't come until about five minutes before he was supposed to come on stage. This upset a lot of fans and it turns out that it could become a class action lawsuit. One fan is even requesting that Morgan pay her back about $4000 for all of her expenses for going to the concert.
Morgan Wallen Cancels Concert
Morgan canceled his concert and it was explained that he had lost his voice. Yesterday, he went on to cancel the rest of his concerts for this week. It was revealed that he needed to let his voice rest.
Rumors flew that Morgan wasn't telling the entire story, though. A security guard shared that the head of security told them Wallen was drunk and taken away in an ambulance. So far, there is no proof of this and fans would love for Morgan to respond. He is staying quiet, though.
Update: The security company is saying they don't stand by these comments.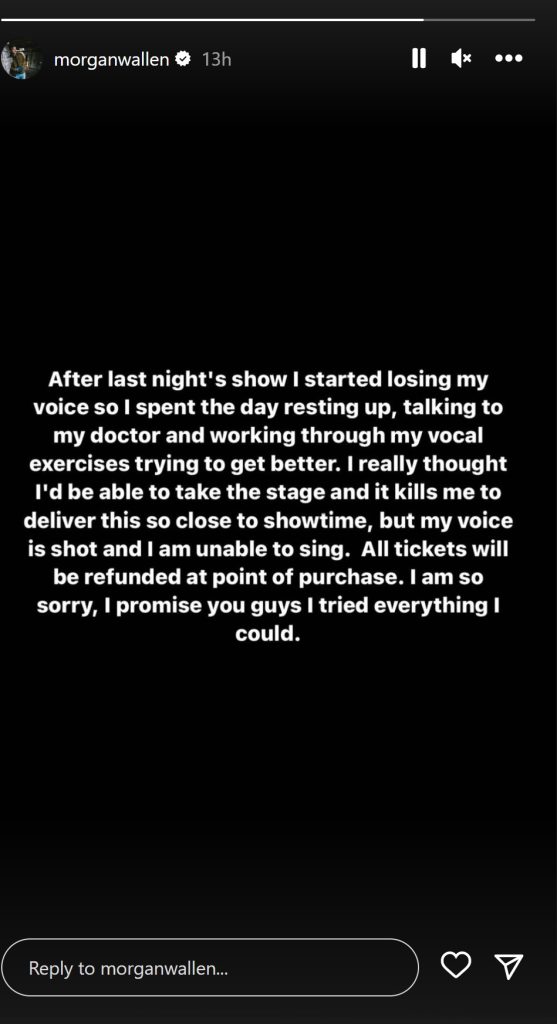 Fan Sues Morgan Wallen, Looking Into Class Action Lawsuit
TMZ shared the news that Brandi Burcham filed a lawsuit on Monday against Morgan Wallen. She is very upset that the concert was canceled last minute. The lawsuit is claiming breach of contract and negligence. Concerts get canceled all the time, but the issue with this one is that it was five minutes before Wallen was supposed to go on stage. A lot of fans feel like he knew all day he didn't have a voice and could have canceled earlier.
One issue that Burcham has is that they haven't received their refunds yet. It may take the venue a couple of days to handle it all, but she wanted it back right away. Her other complaint is that they are not going to be paid back for gas, lodging or anything else they spent when going to the concert. They did all get to watch the opening acts for free, but she doesn't seem to be taking that into account.
View this post on Instagram
This could end up being turned into a class action lawsuit. It probably won't be hard to find people who were at the concert and want to join. So far, the judge hasn't certified it as a class action lawsuit, but that is the woman's hope. Right after the concert, people went to social media upset about it being canceled.
Do you feel like Morgan Wallen should be sued over this concert cancelation? Sound off in the comments below.