Latest posts by Haley Cook
(see all)
Miranda Lambert is back with another stunning blue dress. This time, she's showing off more than just a little skin. Keep reading to find out just what the country music icon wore to the ACM awards.
Miranda Lambert flaunts her body
In a new post on Instagram, fans are swooning over Miranda Lambert's stunning look at the ACM Awards. Brendan McLoughlin shared a photo of Miranda featuring the dress the star wore to the awards. Per usual, Miranda went with a blue dress. However, this one was a bit more revealing than those that she's worn in the past.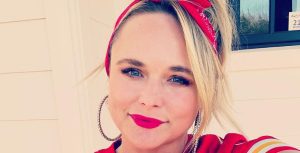 Instead of a light, denim blue, the country music star went for a cobalt blue gown. The floor-length dress features a slit that goes up her leg before stopping at her hip, giving fans just a tease of her glowing skin and upper thigh.
Her leg isn't the only thing on display though. In fact, her cleavage is getting ample time in the spotlight. Miranda's blue dress features a triangle-style top. The plunging V in the neckline perfectly contours to Miranda's chest, making it appear that she is about to burst out of the top completely. In addition to the cut, the top features an intricate, pretty design, complimenting the star's skin.
As for the rest of the look, Miranda wore her long, blonde hair down and in long, mermaid-style curls as it hits just below her cleavage. Her makeup appears to be a soft glam with a brown, smokey eye highlighting her bright eyes. Even her nails are painted a white shade, popping off her tan skin and the bright blue of her dress.
View this post on Instagram
Fans go wild
Of course, Miranda Lambert has plenty of fans who were ready to hype her up in the comment section, and that's exactly what they did for her.
"She is so beautiful…but just down to earth and natural beautiful! Not all plastic and fake! Love her so much!!!"
"This dress looks AMAZING on her.!!! 🔥🔥🔥 obsessed!"
"Y'all bout look amazing!! So happy for y'all!💕💕💕"
"Her dress! You guys looked amazing 🤩"
"How can a woman be so beautiful?! You're a lucky man, and she is lucky to you you by her side! ❤️🙌🔥"
What do you think of Miranda's dress? Was it too much or just enough? Let us know in the comments below. Come back to TV Shows Ace for more on all of your favorite country stars!