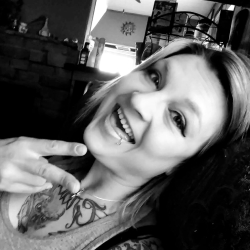 Latest posts by Chris Piner
(see all)
Since an early age, Ashley McBryde sought to be part of country music and one day stand on stage in front of a roaring crowd. While her trip into the spotlight didn't happen overnight, the singer eventually moved to Nashville and showcased her years of hard work. With one Grammy Award and three ACM Awards, McBryde eventually walked on the stage at the Grand Ole Opry in December 2022 as its newest member. With her career ongoing, the singer recently talked about turning 40 and the one decision she made that not only changed her life but saved it.
Celebrating Another Milestone
Back in July, Ashley McBryde said goodbye to her 30s and embraced her 40s. With each year seeming to pass by in a matter of weeks, the singer admitted to being worried but how it was all part of the process. "It feels like a nice rite of passage. If this were an animated film, this is where they place the crown on my head, where I'm just like – I am now me. And I think that all has to do with making all the decisions I've been making, making all the changes I've been making, and recognizing, that's who I am."
Going through a time of self-discovery, Ashley McBryde used the process to help inspire her newest album The Devil I Know. The cover, pictured below, has multiple versions of the singer. She explained her decision, noting, "I am each of those characters. I'm a complete person now. And I love that, and I celebrate it."
With the album revolving around Ashley McBryde's personal journey, she decided to give some insight to fans preparing to listen to it. "I want them to not be confused that the country is so country, that the rock is so rock, that the tender is so tender, and that the 'f**k you' is so 'f**k you.' Just don't be confused about it, because that's how I felt about myself for so long."
Ashley McBryde Saves Herself
As for the person she is now, Ashley McBryde revealed she decided to stop drinking without making it public. Although a personal decision, she warned about the negativity that comes from telling the world. She said,  "I did it for me. I didn't do it for social media." She continued, "I don't need a parade. I just needed to stop killing myself."
Light On In The Kitchen (Live) is out now!! Check it out 💡https://t.co/VJf1gapO7p#LightOnInTheKitchen #TheDeviliKnow pic.twitter.com/eWSBNl8f6l

— Ashley McBryde (@AshleyMcBryde) October 17, 2023
While turning away from alcohol, Ashley McBryde isn't giving up all her bad habits as she enjoys a cigarette now and then. But as for her current state, she insisted on feeling great. "The difference in my voice. If you had told me even 10 years ago, you think you love your voice? You should hear it without drinking, because along with drinking comes smoking for me."
What is your favorite Ashley McBryde song? Be sure to share your answers in the comments below.