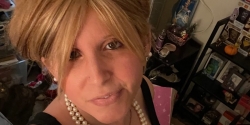 Latest posts by Amanda Nowitz
(see all)
Kelly Clarkson is stunning in a red power suit as she announces huge career news. The talk show host and Grammy Award-winning singer has just relocated her whole life. Yet, she looks better than ever and with that, she is bringing bigger and better news. What is it? Read on for more details.
Kelly Clarkson Stuns In Red Sharing Huge Career
It has been a big year for Kelly Clarkson. She relocated from California to New York for a fresh start with her kids and her talk show. Yet, prior to the show starting in the fall, she spent some time in Las Vegas doing a short but well-received residency. Fans loved the fun twists she put on her songs and how she changed the lyrics to reflect how her life is now. Plus, she was just nominated for a Grammy on November 10th so that added to the success she has already been enjoying. Finally, she lost a lot of weight and is really shining like the star that she is.
However, Kelly always has more to give and she made a huge announcement on November 8th. First off, she wore a red power suit to start the day and share this exciting achievement. So, what was it? According to Parade, the big news was that the mother of two is starting her own year-round channel on SiriusXM. It will be called the Kelly Clarkson Connection and is already up and running. Fans can enjoy her hit songs as well as those from her favorite musicians.
Kelly Clarkson attends the SiriusXM Next Generation: Industry & Press Preview in New York City. pic.twitter.com/Cvgw6zo5zm

— Entertainment Tonight (@etnow) November 8, 2023
It is the best of both worlds but why did she choose this avenue? "Music is such a personal experience for all of us, and I am stoked to have the opportunity to curate a channel of all of my favorites. I hope that people tune in and enjoy it as much as I loved making it!" Kelly shared. Yet, what really blew people away was how amazing she looked. In fact, Kelly looked red hot.
Fans Are In Love
After seeing Kelly Clarkson in head-to-toe red, fans were blown away by how amazing she looked. They immediately took to Twitter/X to share their thoughts.
You look amazing!!!
She looks amazing!! Love her in red.
One person was even more thrilled that there was finally a station that they could listen to all day. This will be a fun project for Kelly and it will keep her music flowing for years to come.
What do you think of Kelly's big announcement and even more than that, do you love her red hot, new look? Let us know in the comments below.