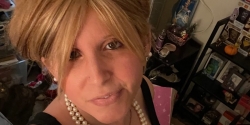 Latest posts by Amanda Nowitz
(see all)
Singer and talk show host Kelly Clarkson is making fans hot over her new look now that she is a New Yorker. She recently relocated from sunny California and with that, she completely revamped herself. So, what are fans saying about her? Read on for more details.
Kelly Clarkson Making Fans Hot Over New Look
Since she moved her family and her show to the East Coast, Kelly Clarkson also unveiled a drastic new look. The first-ever America Idol winner has dropped some serious pounds and looks incredible. More than that, she appears completely happy within herself. After her divorce from Brandon Blackstock was finalized in 2022, it was a rocky road. Thankfully, she had The Voice and a short residency in Las Vegas, which went over amazingly well. Then, she made the big move to New York from California and it seems to have been for the absolute best.
According to The Sun, Kelly's svelte figure has blown her viewers away and became the talk of the town. To promote her recent Season 5 guest, Bowen Yang, Kelly did a promo pic for Twitter/X. Immediately, fans saw the duo in the snap and could not get enough of how amazing she looked. She was donning a periwinkle blue pantsuit paired with a David Bowie T-shirt underneath and looked causal chic.
Our friend Bowen Yang stops by Studio 6A today on Kelly! 💕 pic.twitter.com/Z5k7Pxv7Mh

— The Kelly Clarkson Show (@KellyClarksonTV) October 20, 2023
Immediately, fans started to tweet about how much they adored her new look.
I'm loving Kelly in that suit…so hot 🔥🔥🔥🔥 i'm gonna find blue suit too now

— nassKC 🍷💔☀️=🧪 (@nass_casey) October 20, 2023
She also shared a clip of herself singing from the same episode where fans could see her full body and they also went crazy with delight.
..Ddaanngg., Kelly!! ✨✨🤩🤩 absolutely freaking amazing!! ❤️#loveeyou #queenkelly #kellyClarkson

— ᗩᗰY ᗴᒪᗪᗴᑎ❤️❤️😘 (@AmyElden) October 20, 2023
Finally, one added: "This woman is so radiant in this new season. She's beautiful (it used to be, but now it's even more)." Unfortunately, it seems that with Kelly Clarkson's new body also comes a new attitude. One insider claimed that the mother of two acted quite cold toward the audience, barely acknowledging they were they. This happened at the beginning and the end of the filming.
Big Adjustment
To be fair, this new move is a big adjustment for Kelly Clarkson and a lot was riding on the season premiere. In fact, due to the WGA strike, it was unclear when the new season would even begin. Drew Barrymore had planned to start taping before the strike was even over but received too much pushback. There was a moment where it was questioned if Kelly would follow her but she did wait until it all ended. Now, she is in a new state, studio, body, and is doing the best that she can.
What do you think of Kelly's new, hot look? Are you impressed with her style now that she is an East Coaster? Let us know in the comments below.