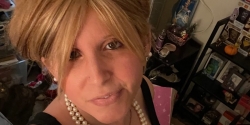 Latest posts by Amanda Nowitz
(see all)
Kelsea Ballerini is bragging about her boyfriend, Chase Stokes. More so, she refers to him as her "favorite human" which is really sweet. The two have been going strong for nearly a year now and it looks like it is a match made in heaven. So, what led Kelsea to say such kind things? Read on for more details.
Kelsea Ballerini Brags About Boyfriend, Refers To Him As 'Favorite'
When Kelsea Ballerini and her husband, Morgan Evans, called it quits, she was very transparent about her sadness. However, she also knew that she was a different person than when they first got together. She had grown a lot and it was a great relief when she ended up meeting Outer Banks actor, Chase Stokes. They kept their romance very low-key initially and did not say anything. Eventually, it started to emerge and they could not hide their happiness any longer. The two even started to attend events together.
Now, Kelsea is thriving in so many ways and even landed a GRAMMY nomination this year. She even had an epic performance for her thirtieth birthday at the MTV VMAs where did a memorable quick change. Fans not only praised her powerhouse singing but also the show she put on. Recently, the tables have turned and, according to People, Kelsea is putting the attention all on Chase. She decided to post a TikTok to her new single, "How Do I Do This." In it , there was a slideshow of the best photos of her and her man.
They are just being silly, goofy, laughing, and loving so Kelsea Ballerini went with the caption: "favorite human." Immediately, her fans and followers flocked to the comments section to rave about the sweet compilation:
Everyone needs a Chase Stokes
You and Chase + Taylor and Travis are my Roman empire
Chase & Travis are bringing hope back to us that men and love like this still exists!
Access Hollywood even chimed in with:
Unaplogetically in love with you two
It seems that everyone loves Chase as much as Kelsea does and it shows.
Everything Together
While referencing Taylor Swift and Travis Kelce along with Kelsea Ballerini and Chase Stokes, they do have something in common. Recently, Taylor ran off the stage at one of her shows to kiss Travis. Kelsea has done this before where she sang her heart out then rushed to the back where Chase was watching her sing. She then kissed him and it was such a swoon-worthy moment. The couple has also gotten matching tattoos to show that this is the real deal.
What do you think of the sweet video Kelsea made for her man? Let us know in the comments below.