Loretta Lynn is weighing in! The country music legend recently spoke out on Instagram about Garth Brooks' decision to remove his name from the CMAs. After backlash from winning Entertainer of the Year over Carrie Underwood, Garth chose to remove his name from contention. CMA can still nominate him for other awards, just not Entertainer of the Year. 
Country music fans and artists alike reacted to Garth's announcement. Many feel that he shouldn't step aside for anyone. Blake Shelton made it clear when he dubbed Garth Brooks as "Entertainer of the Century." 
Loretta Lynn Says Garth is 'Wrong' About Removing Name From Award Consideration
If you don't know who Loretta Lynn is, you can't call yourself a country music fan. She famously sang, "if you're lookin' at me, you're lookin' at country. The Kentucky native is still recovering after a stroke in 2017 forced her to cancel her tour that year. Of course, with coronavirus, she hasn't been able to make it out on the road in 2020, either. 
Loretta Lynn has been active on social media, particularly Instagram, during the quarantine. While she clearly has a social media manager, the posts are written as if they are from Loretta herself. 
Earlier this week, a photo of Loretta and Garth was posted on her official Instagram account. In the caption, Loretta disagrees with Garth's decision. She writes that while he is just being "classic, humble Garth," she thinks he's "wrong on this one." The post continues by pointing out his previous 7 wins as Entertainer of the Year were earned. 
The "Coal Miner's Daughter" singer believes Garth "deserves to win" any time he tops the voting. 
In fact, Loretta encourages CMA voters to ignore his request. But she reminds Garth how she feels about him, signing off with, "Love you, honey." 
Loretta Lynn Takes Part in the #WomenChallengingWomen Viral Trend
Loretta's Instagram is a mix of recent photos and older memories. If you're a regular social media user, you will recall the #WomenChallengingWomen trend from earlier this month. The trend was meant to empower women by sharing a black-and-white photo of themselves with empowering hashtags. 
Not surprisingly, Loretta shared a black-and-white photo of herself with a guitar on her lap. Loretta taught herself to play the guitar early in her career.
Also not surprising is the Courier Journal choosing Loretta as one of their Women of the Century. The award celebrates the 100-year anniversary of the 19th amendment, giving women the right to vote. Passed in 1919, the amendment wasn't ratified until August of 1920. 
We couldn't think of a more deserving country music icon than Loretta Lynn. What do you think about Garth Brooks taking himself out of the running for Entertainer of the Year? Tell us in the comments.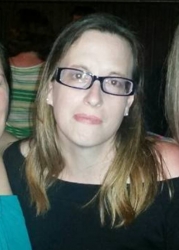 Latest posts by Jennifer Havener
(see all)