Ready for a holiday tale, with a country twist? Hallmark's A Nashville Christmas Carol includes a lot of country music greats. Who are some of the names? How about Wynonna Judd, Kix Brooks, RaeLynn and Sara Evans?
The movie was partially filmed in Nashville, so fans will get a real authentic country music feeling. What do we know about this new movie?
A Nashville Christmas Carol Loosely Based On Classic Tale
What is A Nashville Christmas Carol about? It is loosely based on the Charles Dickens' classic, A Christmas Carol. But, as Kimberly Williams-Paisley assures viewers, it is not as scary as the original.
Brad Paisley's wife recently told the Bubbly Sesh podcast that she read the original tale to their two sons, Huck and Jasper, and the dark tale of Ebenezer Scrooge scared them. Kimberly assures fans that this tale is a lot of fun and with a lot of country music.
The movie stars Jessy Schram (Nashville) and Wes Brown (Over The Moon In Love). Television producer, Vivienne Wake (Schram), has a huge country music special coming up on television for the Christmas season. This is her ticket to Los Angeles and a huge promotion. She is a workaholic, but she loves her job.
The featured guest is Alexis (Raelynn). But, Vivienne's childhood friend and sweetheart, Gavin Chase (Brown) is back. That is because he manages headliner, Belinda (Evans).
One night, the ghost of Marilyn (Judd), comes to visits Vivienne. She was her beloved, late mentor. But Marilyn is there with a warning. Vivienne is headed to a "dark future" if she does not change her ways. The ghost tells her that she will be visited by other ghosts.
This is the start of some pretty fun guest appearances. for example, the Spirit of Christmas Past (Brooks), is there to remind Vivienne of some happy Christmases in the past. In addition, the Spirit of Christmas Present (Williams-Paisley) is there to help Vivienne change the now.
Throughout the entire movie, there is whole lotta country music for fans to enjoy.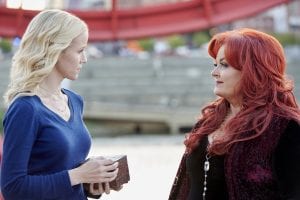 The Country Stars Have A Lot Of Fun
When Jessy Schram and Wes Brown spoke on the Hallmarkies podcast, both shared how wonderful the country music stars were to work with. Both shared that off camera, they were very welcoming and "normal" people.
On camera, fans should be surprised at how absolutely wonderful each performance is. They were especially surprised at how Kimberly Williams-Paisley decided to play her role of the Ghost of Christmas Present.
The two Hallmark stars also revealed that everyone came with a tour bus. Even Kimberly Williams-Paisley had use of her husband Brad's tour bus for the movie. It was like they were all on a major tour.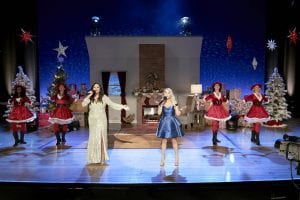 When Can you Watch A Nashville Christmas Carol?
Hallmark's A Nashville Christmas Carol premieres on the Hallmark Channel on Saturday, November 21, at 8 p.m. Eastern, with Encores airing on Sunday, November 22 at 6 p.m., Wednesday, November 25, at 10:03 p.m., Saturday, November 28, at 2 p.m., Friday, December 4, at 8 p.m., Sunday, December 20, at 10 p.m., and Friday, December 25, at 5 p.m., all times Eastern.
Don't forget to catch Wynonna Judd, Kix Brooks, RaeLynn, Sara Evans, in the premiere of A Nashville Christmas Carol, on November 21, 8 p.m. Eastern.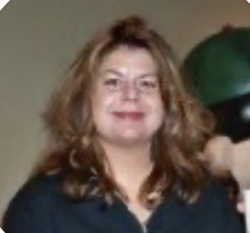 Latest posts by Georgia Makitalo
(see all)