Latest posts by Tresa Patterson
(see all)
For a quarter-century together, most of it married, Tim McGraw and Faith Hill have made beautiful music and memories together.  Songs like "It's Your Love," "I Need You," and "Shotgun Rider" carry more than stage chemistry and magnificent harmonies.  These hits and so many more signify the real-life ride of love and marriage between the superstars, including creating a family of three amazing, independent, and beloved daughters.
"Speak to a Girl" is another indelible duet from 2017 by Tim McGraw and Faith Hill.  Tim certainly took lessons on the message of that song long before turning it into a mega-hit.  Never mind the songs about cowboys and riding the range, Tim McGraw has the softest heart for the ladies in his life, and he doesn't even try to hide his emotion.  That's a real-life "Real Good Man."
Taste of Country sampled the latest tender words straight from the heart of Tim McGraw, with Faith Hill giving her own motherly remembrance, in honor of their youngest daughter, Audrey, on her 19th birthday.  Whether she had anything to unwrap or not on her special day (December 6), her parents' treasure of unconditional love is an eternal gift.
Audrey is a shining light to Tim McGraw, Faith Hill, and family
"This lil punkin has been a full-on million watt light in our lives since she arrived on this day" proud papa Tim McGraw writes on social media, including several photos.  McGraw and Audrey's mama have a slight difference of opinion on Audrey's arrival.  Tim notes that she came seven weeks early, while Faith Hill notes that it was almost 8 weeks.  The odds definitely go with mom on this one.
There is no denying the absolute love from everyone in the McGraw clan for Audrey.  "You are so loved by everyone who knows you," Tim McGraw continues. "But I want you to realize how deeply your mom, sisters, and I love and adore you."  No daughter could help but be moved by such heartfelt words before launching into life away from home.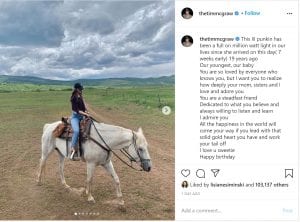 Above and beyond his fatherly devotion, daddy Tim McGraw truly provides personal insight into the individual gifts of his girls. In Audrey's case, "You are a steadfast friend," Tim credits.  He also praises that his youngest is "always willing to listen and learn," before closing with "I admire you." What higher praise could a daughter crave? Dad declares that happiness is sure to come to Audrey if she will simply "lead with your solid gold heart" and "work your tail off."  Good ethics work for every family.
Mom Faith Hill piles on more love to the heap started by Tim McGraw
Faith Hill could never forget the day Audrey arrived in a million years.  She was the one in labor and delivery the longest and praying that her youngest daughter would have a safe and healthy welcome to the world.  Like Tim McGraw, her loving words salute the unquenchable spirit (and song!) within her little girl from the get-go.
Faith posted a cute video of her singing along with the sweet message,
"Hard to believe that our baby girl, Audrey turns 19 years old today.
As you can see from this video at the tender age of 5, a broken ankle could not stop this child from her true passion. Singing and acting out every single song from "Across The Universe" which she listened to and watched 100 times!!!!!! Maybe more….
Audrey was born almost 8 weeks early but we all knew from the moment she arrived that she was ready to conquer the world. Her sisters gave her so much love and protection that she knew she would have wings to fly to any dream that she could imagine….
What a blessing to have all of these self recorded videos.
Happy Birthday my sweet song bird. Love you, Mom"
A daughter ready to fly
The mom with the pipes that never quit showed off a sweet video of Audrey performing the Beatles' White Album classic, "Dear Prudence," still wearing her orange-covered cast from a broken ankle at age 5.  Mama declares that singing and acting every song from Across the Universe was the youngest sibling's "true passion."  Tim McGraw never mentions that specific creative expression, but the superstar dad probably still remembers the performances.
Despite her early arrival, Faith gushes that everyone knew Audrey "was ready to conquer the world." Faith also praises how her sisters "gave her so much love and protection" that she was sure to have "wings to fly to any dream she could imagine." The doors to Audrey's future dreams are just starting to open. Tim McGraw and Faith Hill are sending their daughter out into the world with confidence and an overflowing love tank.
This isn't the first loving ovation from Tim McGraw lately
Tim McGraw certainly knows a great song when he hears it.  The country music superstar has written more than a few, too. He seldom records his own songs, being too harsh of a critic on his own work. When it comes to speaking his feelings, though, Tim McGraw's words to the ladies in his life already sound like songs.
To mark his 24th wedding anniversary to Faith Hill in October, Tim McGraw honored his wife with profound words of love through the "exciting, inspiring and heartbreaking events" through their lives together.   He first extols Faith Hill as a mother, and the role model for the "3 remarkable young women who have made me a better man than I ever thought I could be."  In referring to an even better future, Tim declares: "It only matters if I'm with you." The husband further elaborates that "my oxygen exists only if you're by my side."
"Forever and always, living and loving our way through anything," Tim McGraw closed his anniversary tribute. Faith Hill hasn't changed her mind about the man who "stole my heart" 24 years ago, according to her reply.
Beautiful birthdays to remember
Gracie McGraw celebrated her 23rd birthday last May, and once more, Tim McGraw didn't conceal his love and pride.  He called out his daughter's inner beauty, saying hers was the "sweetest, kindest heart in the world." Friendship came up again, as dad describes how his oldest daughter is "always there for her friends. Always there for her family." Gracie brings a big smile and a "boisterous laugh" to any warm occasion.  She surely Facetimed her little sister Audrey with more than one on her birthday.
Birthdays are times to celebrate in any family, and this Christmas season may be a little bittersweet for Tim McGraw and Faith Hill.  Still, the comfort of being surrounded in love like this by devoted parents stays forever.  Audrey will always be "My Little Girl" to her dad.