Oscar-winning actress Nicole Kidman makes a powerful impression with every persona she embodies on the screen.  Her husband, country music megastar, and string virtuoso, Keith Urban, is not alone in calling her luminous.
No matter the demands of her career or the endless accolades for her unforgettable roles, the family is first for Nicole Kidman.  The devoted wife and mother has demonstrated several of her skills beyond the screens over the holiday season.  Still, nothing fills any parent's heart like celebrating her child's birthday.  Today confirms, Nicole Kidman wanted her daughter, Faith Margaret, to remember her 10th birthday as a day of love and light.  No doubt, her first decade was a delicious celebration!
Not quite a Christmas birthday, but a decade that means so much to Nicole Kidman and Keith Urban
Keith Urban is not only a musical and songwriting talent in the extreme, but also a man who understands how his wife changed his entire life for the better.  When he gave the most pivotal moments of his life, he put "Meeting and marrying Nic" at the top.  "Having children" came next.  Nicole Kidman and Keith Urban share a united commitment in raising and protecting their daughters, Sunday Rose, 12, and Faith Margaret. A 10TH birthday is a tremendous reason to celebrate, even when it comes just days after Christmas.
Long-time fans remember when a "delighted" and radiant Nicole Kidman gave birth to Sunday Rose in July 2008.  The birth itself was nothing short of a miracle for Keith Urban and Kidman, who longed so deeply to carry a child but was told doing so would be at great risk.  The couple tried for a natural birth again for a second child but failed. They then pursued IVF treatments that proved unsuccessful.  Kidman and Urban sought a surrogate, and Faith Margaret became part of the family on December 28, 2010.  It's no wonder why Nicole had to share a sweet memento of the special day.
Pink and glowing looks perfect for Faith Margaret thanks to parents Nicole Kidman and Keith Urban
Folks say Nicole Kidman and Keith Urban have been cozy since Christmas.  As another Country Music Alley feature covered, the eternal lovebirds shared a sweet and very personal greeting in song, complete with adorable giggles.
Keith could hardly get the words out to "I'll Be Your Santa Tonight." Nicole Kidman added her own touches on harmonies and closed with a very sweet "We love you," at the end.  Fans welcomed the greeting like a warm blanket on a cold winter day, gushing with gratitude and love to the two.
Nicole Kidman and Keith Urban probably sang only "Happy Birthday" for their youngest daughter's private birthday concert.  Both parents are fiercely protective of their girls' privacy, shielding their faces from paparazzi glare whenever possible.
Pink candles glow in an array of shades on the lovely birthday cake photographed by Nicole Kidman.   The simple, circular cake is scripted with a message in chocolate icing,  "Happy 10th Birthday, Faith," with colorful sprinkles as a garnish.
"Happy Birthday, darling Faith Margaret!  We love you so much!" Nicole Kidman captions the photo.  Only the daughter knows if Keith Urban added a song of his own to her festivities.
Nicole Kidman strives to give her children their voice
In a 2017 Today interview, Nicole Kidman spoke frankly about her perspective on parenting.
"So much is stepping aside and letting them become who they are," the Cold Mountain heroine elaborated.  "I don't know if I'm teaching them as much as giving them their voice."
Nicole Kidman is also a mother to two grown children, Connor and Isabella Cruise,  age 25 and 28.  Both were adopted during her marriage to Mission Impossible star, Tom Cruise.
The superstar mom used her voice on a very powerful platform, as Reuters reported days ago. Nicole Kidman deemed violence against women "a shadow pandemic."  Kidman related how her role as Celeste in the HBO series, Big Little Lies, became a personal turning point for her.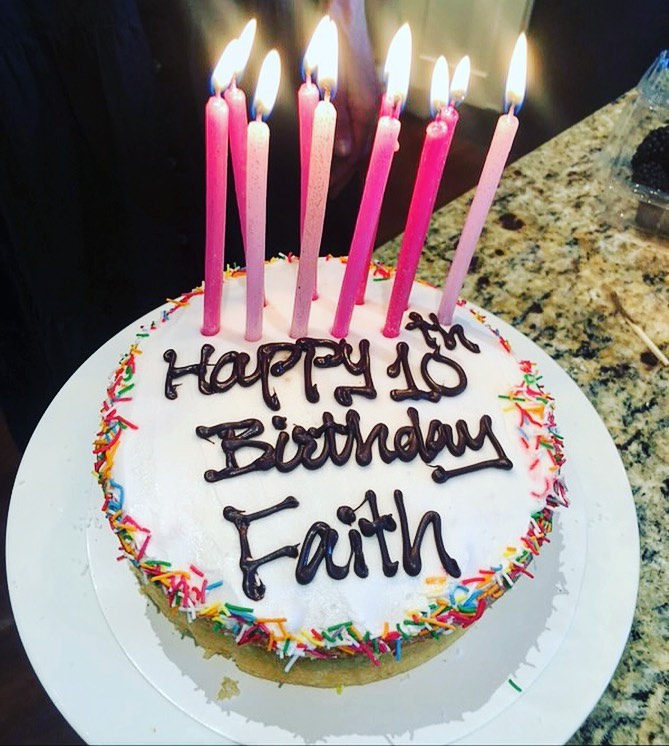 More than study for a role
"I felt very exposed and vulnerable and deeply humiliated as I told her story," Nicole openly admitted.  As eye-opening as the experience was, she understands that the portrayal "is nothing compared to what women in abusive relationships actually face."
Nicole Kidman shared her views in an opinion piece for the UK's The Guardian. She reflected on how stories of survivors prompted the UN Women's Goodwill Ambassador to offer her platform and voice to empower and lift women in violent circumstances to create restored lives.  The pandemic often provokes difficult domestic situations to become even more dangerous.
243 million women and girls experienced physical or sexual violence from a partner last year, per UN statistics.  Nicole Kidman highlights that the issue of violence was "already widespread" before the pandemic.  She asserts that everyone has "a role to play and power to contribute" in ending violence against women and girls.  She closes with a reminder that whether the violence outlives the global pandemic or not, "it's on us all."
Keith Urban is blessed to be surrounded by strong, caring, and still growing ladies of faith and action.  One of the songs he is best known for, and one he sang with Nicole Kidman, is "The Fighter." Birthday girl Faith Margaret probably already knows that whether it's for love or for the cause of helping humankind, the fight is worth all the effort.
Latest posts by Tresa Patterson
(see all)