Carly Pearce takes to Instagram to share a selfie of a dream come true with her fans.
What has Carly Pearce grinning from ear to ear?
Without a doubt, the "Next Girl" singer is radiating in her latest Instagram post. The blonde beauty shares a photo of herself grinning from ear to ear while holding a CMA award. Fans may remember back in November 2020, Pearce takes home the 2020 Musical Event of the Year CMA award. Notably, Lee Brice also won the award.
Carly Pearce seems over the moon to have her CMA award in her hands.
Remarkably, Carly Pearce definitely exudes her enthusiasm about finally having her CMA award in her hands. She shares the details in the photo's caption. "My team surprised me yesterday with this gem," writes the songstress. To exemplify how much this honor means to her, she writes more. "I have dreamt of winning one of these since I was 5 years old, so there were plenty of tears when I held my very own with my name on it in my hands." Graciously, Pearce concludes that caption by thanking "country fans" and the CMA.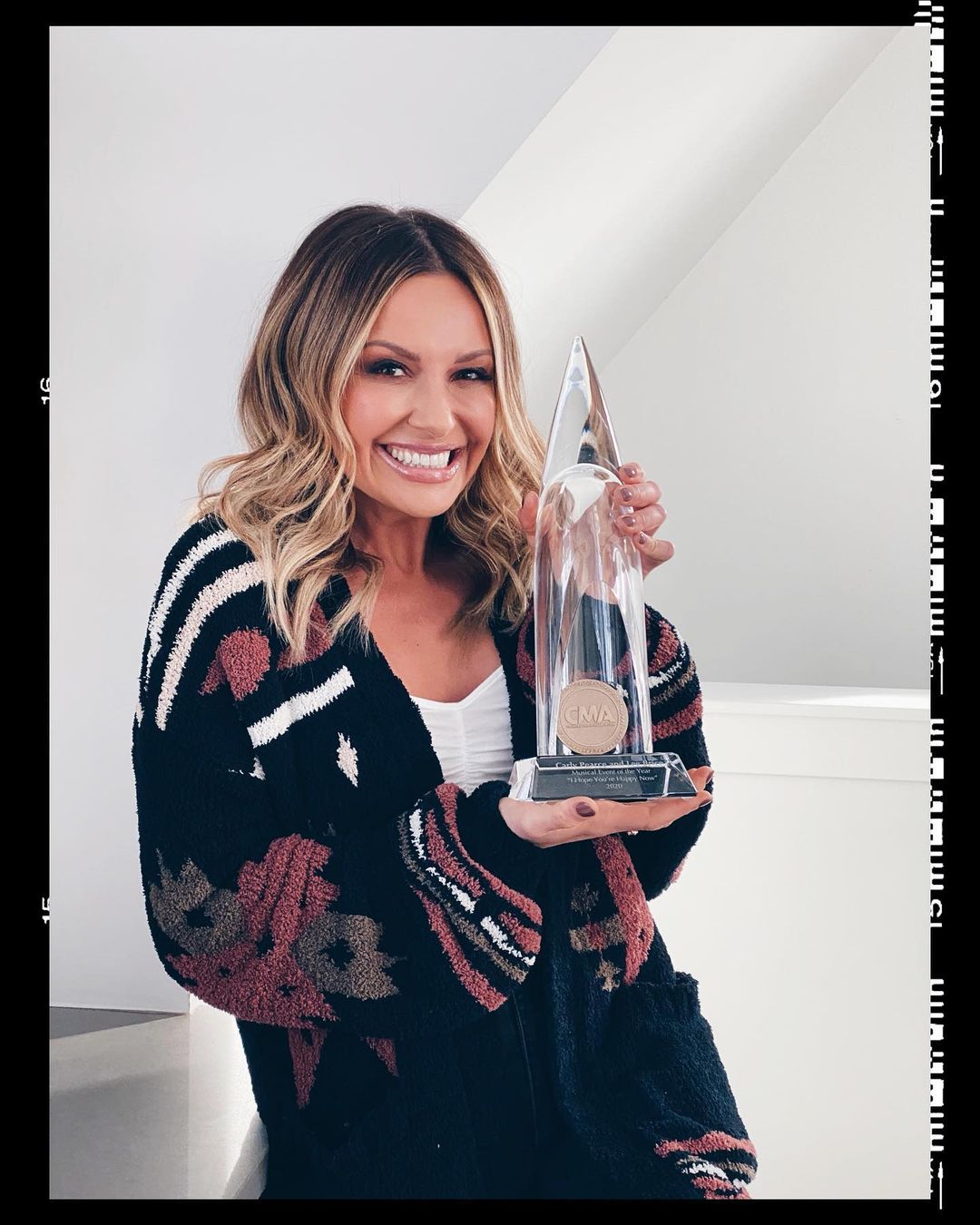 What exactly is the award for?
It's been nearly two months since the 2020 CMA Awards. So, it may be hard to remember what Pearce's award is actually for. Luckily, Taste of Country reports on the event. More specifically, they detail the award that Carly Pearce and Lee Brice won.  Notably, this award is the first time both Carly Pearce and Lee Brice won a CMA award. Fans may remember the hit song from the duo, "I Hope You're Happy Now."
Additionally, fans wonder if "Next Girl" is a dig at Carly Pearce's ex, Michael Ray. At the awards show, Pearce cradles the CMA trophy in her arms. "It's my date this year," jokes the singer.  Given how tumultuous 2020 was for her going through a public divorce, she seems to be in good spirits. Her lifted spirits may be in part due to the support of the Country music industry.
Carly Pearce Shares Relationship Red Flags & Fans Speculate It's a Dig at Ex
"Obviously, this has been the hardest year of my life," acknowledges Pearce. "To see the way that country music has my back this whole time is something that has saved me, in a lot of ways." Even at the time she won the award, she says that "it's like a childhood dream."
How do you feel about Carly Pearce's CMA Award? Do you think there are more accolades in her future? Let us know in the comments section below. Come back to Country Music Alley for more news about your favorite Country stars.