Kelsea Ballerini revealed her New Year's resolution. The country singer wants to focus mainly on her health. And she's encouraging her fans to focus on their health, as well. At the turn of the New Year, Kelsea shared a message with her followers. She revealed her "word of the year," which is a resolution that will help keep her grounded.
"My word of 2021 is 'healthy,'" she wrote in the caption of her Instagram post. "I want to nurture and focus on my physical, mental and emotional health that all took a bit of a backseat last year (anyone else?). Having a word for the year helps me stay focused and keeps my intentions set while I try to live a full life, stay creative, and be productive."
Kelsea Ballerini encourages her fans to do the same
The "Roses" singer wants her fans to join her in selecting a word for the year. They can use that word to set the theme for their lives in 2021. "I'm sooooo interested to know what your word/intentions are for what's bound to be a better year?!" she added.
Kelsea Ballerini shared two new photos of herself. The first shows her wearing a black turtleneck with mom jeans. She looks back at the camera and smiles. In the second photo, she looks out at the beautiful scenery in front of her. The country superstar kicked off the new year with a trip to the Great Smoky Mountains with her husband, Morgan Evans.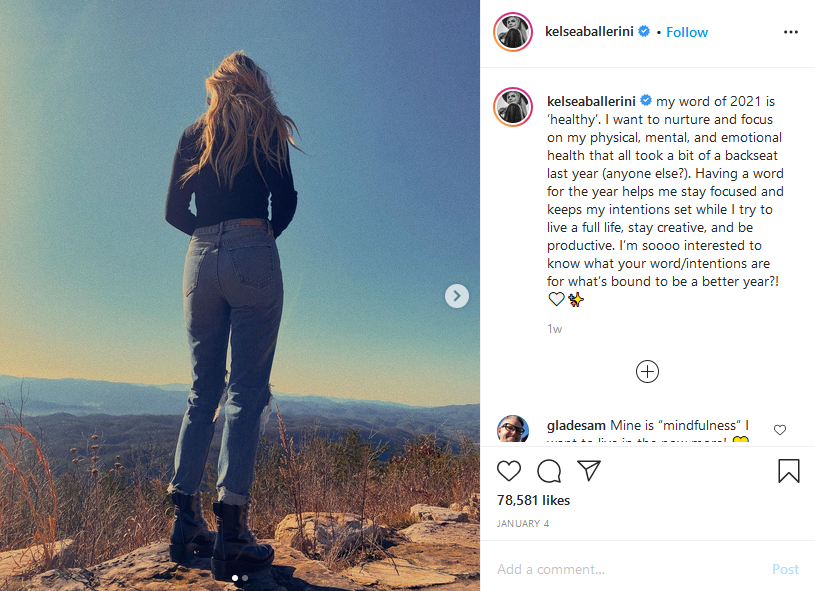 She previously shared a photo of the two of them standing outside a cabin at sunset. In the caption, she simply wrote: "reset." Over the weekend, Kelsea joked that her health was more like her new single "Hole in the Bottle," which is a song about drinking a little too much. The song appears on her latest album, Kelsea.
The new year is an important one for the songstress
Kelsea Ballerini and Morgan Evans moved into their first house together late last year. The couple wants to start their new year off right. They wanted to get away from the hustle and bustle of the city. The "homecoming" singer opened up about their move with People Magazine.
"We have been in an apartment since we got married. It's a big pain to go from downtown to Nashville to the 'burbs, but it's so good for us, especially this year, just to have a little more space, to not hear the interstate, and not hear the bachelorette parties," Kelsea told People in December. "It's been good for us to start settling in."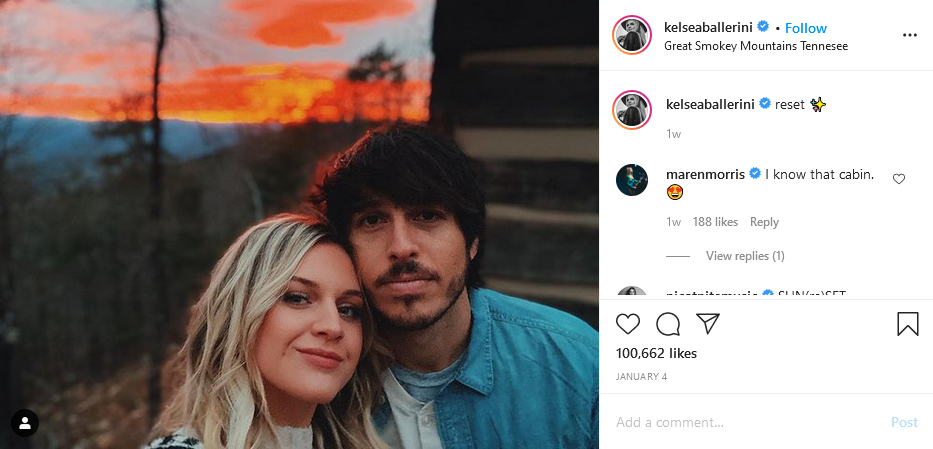 The Comeback Stage coach says their new home gives them "purpose." Like her word of the year, it's giving her a creative outlet. Despite the coronavirus pandemic, Kelsea's 2020 was filled with bright spots. She previously released her stripped-won album Ballerini in the fall before releasing her album, Kelsea.
But she's not sure how to readjust
Kelsea Ballerini admits that it'll be hard for her to readjust when the pandemic is over. She's just one of the many country artists who had to cancel their touring plans. But she previously told Rolling Stone that the pandemic allowed her to spend more time with her husband. Those are just some of the things she'll miss the most.
"Hoping that there will be some version of touring coming back, [but] it will be tough for me to readjust to being away from home and missing birthdays and special moments with my close circle again," Kelsea told Rolling Stone, as quoted by Music News.
But she's hopeful that the lessons learned during the pandemic will carry on as time progresses.
"I hope everyone had some kind of emotional awakening this year and that we carry that into the future by doing a better job of taking care of each other," she added.
Check back with Country Music Alley for more news on Kelsea Ballerini.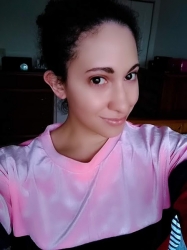 Latest posts by Chanel Adams
(see all)